Student Success
Libraries Scholarship Fund Supports Brianna Bui's Passion for Engineering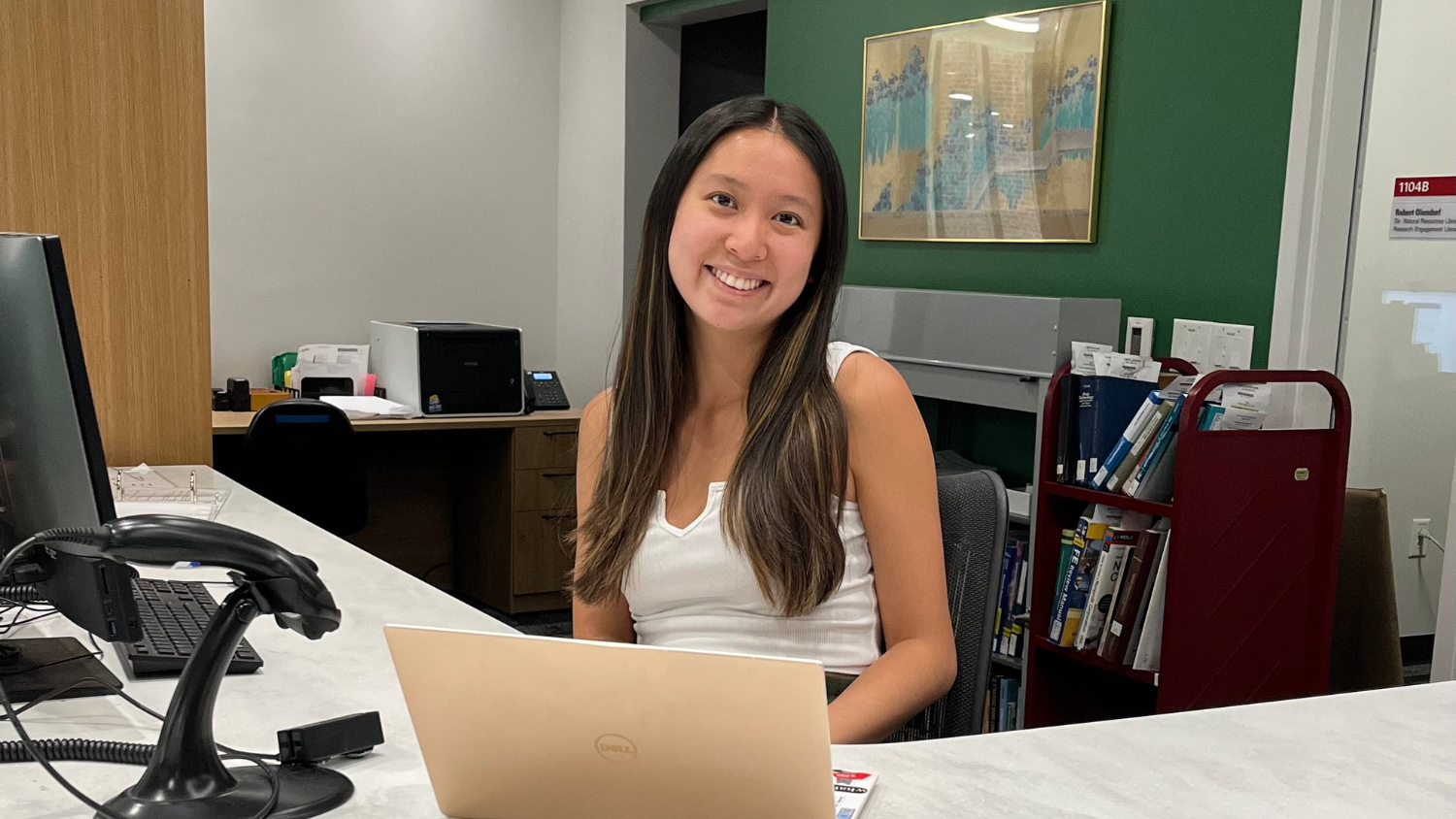 Brianna Bui, a junior majoring in paper science and engineering and chemical engineering at the College of Natural Resources, was recently named one of 10 students to receive a scholarship through the Libraries Student Scholarship Fund. The fund provides annual scholarships to outstanding student workers of the NC State University Libraries.
Since 2021, Bui has worked at the Natural Resources Library in Jordan Hall. The scholarship support has helped offset the cost of tuition and allowed her to focus more on her studies. 
"I chose to work at the library because I wanted to find a job that would allow me to give back to my community," Bui said. "The libraries provide endless resources to students and faculty, and this was my opportunity to share those resources with others to improve their educational experiences."
For Bui, a typical day at the Natural Resources Library can be incredibly busy. She mainly manages the front desk, assists students in obtaining the resources they need and monitors library activity. She also shelves books when they are returned and maintains the library's technology inventory.
Through working at the library, Bui has gained a wealth of knowledge and skills that will support her after she graduates next year. This has included learning how to interact with a variety of students and faculty and learning how she can best assist them with their needs. "Knowing how to talk with many different types of people will be beneficial for engineering or process work that I may be doing in the future," Bui said.
When she is not studying or working at the library, Bui works as a research assistant with the Department of Forest Biomaterials. In her role, she supports the research of Richard Venditti, the Elis-Signe Olsson Professor of Pulp and Paper Science and Engineering.
Bui's decision to major in paper science was supported by scholarship funding that allowed her to fully pursue her interest in engineering. "After taking classes freshman year, I decided to stay because of the tight-knit community, the professors that genuinely care, and the many opportunities for jobs and internships," she said.
Outside of school, Bui volunteers with Girls Engineering Change, an NC State-based organization that works to encourage young girls to explore their interest in engineering. Through the organization, Bui volunteers at events that connect college students with girls in elementary to high school in the Triangle area.
In her spare time, Bui loves to hike, travel, try new foods, and most importantly, do anything related to art. "I have been taking art classes at the Craft Center every semester, and it's a really great way to destress and disconnect from school work," she said. "Recently, I have been painting water bottles for family and friends."
Upon graduation, Bui intends to find a position that she is content with and that allows her to explore different career paths so she can figure out which career she wants. Long-term, she plans to work her way into a managerial role such as a project manager.