Student Success
A Summer of Learning
This summer, students from the NC State College of Natural Resources enjoyed summer camps, internships and other learning experiences that allowed them to apply classroom knowledge in the real world.
At NC State's College of Natural Resources, all students are required to complete either an internship or summer learning experience before graduation.
In 2020, many students' internship plans were put on hold due to the COVID-19 pandemic, with courses for the Department of Forestry and Environmental Resources summer camps being either moved online, postponed or relocated.
This summer, both internships and summer camps resumed with COVID-19 precautions in place, allowing students to once again enjoy experiential learning opportunities.
Internships, co-ops and summer camps not only allow students to gain skills and experiences beyond the classroom but also allow them to explore potential career options, ultimately preparing them for success in the workplace or graduate school.
We recently spoke with faculty, staff and students from each department to learn more about their summer experiences. Check it out below.
Department of Forestry and Environmental Resources
The Department of Forestry and Environmental Resources requires students to complete either an internship or participate in its summer camp program, the latter of which is offered to students studying forest management or firsheries, wildlife and conservation biology.
This year, the department resumed both summer camps with in-person learning but without the requirement that students live on-site. It also relocated the camp from Hill Forest in Bahama, North Carolina to Schenck Forest in Raleigh, both of which are managed by the college.
As part of the forestry camp, students learned how to correctly pace, measure, and map trees, and create a stand inventory," according to Steph Jeffries, associate professor of forestry and environmental resources, who coordinates camp instruction.
Students also enjoyed in-the-field lessons about silviculture, prescribed fire, thinning and other forest management practices. In one course, students were able to travel, with visits to parks and other sites, where they learned about forest ecosystems and species identification.
This year's forestry courses were taught by several of the college's faculty members, including Jefferies, Meredith Martin, Chris Moorman, Joe Roise, Bob Mickler and Leah Rathbun.
"My favorite experience was being able to observe the ecosystem and species changes while trekking down Mt. Mitchell," said Casey Wofford, a junior majoring in forest management. "Being able to physically see how different species composition was on a single mountain was extremely useful in retaining the information, rather than learning about it in a classroom."
The summer camp for fisheries, wildlife and conservation biology students is a six week, six credit program. This year, the department resumed in-person learning for two courses but without the requirement that students live on-site.
All courses provided students with practical field skills focusing on conservation, management and problem solving. Topics range from wildlife and forestry management techniques to ecological relationships in a variety of habitats.
Students learn how to tag and identify animals, use technology and equipment, prepare habitat management plans, measure water quality, and more.
"The most important thing that I took away from the experience is a passion to learn more about wildlife and the environment around me," said Chase Carey, a junior majoring in fisheries, wildlife and conservation biology. "It motivated and excited me about the next two years of classes in my major and it made me realize that this is definitely what I want to be studying."
Two courses, including Coastal Ecology and Management and Mountain Wildlife Ecology and Management, were not held due to COVID-19 restrictions at the host institutions.
The courses, taught by Jeff Buckel and Lara Pacifici, are typically held at the Duke University's Marine Lab and NC State's Center for Marine Sciences and Technology and the Great Smoky Mountain Institute at Tremont in Great Smoky Mountains National Park, respectively.
Faculty who taught this year's courses included Chris DePerno, a professor of fisheries, wildlife and conservation biology, and Tom Kwak, a professor who also serves as leader of the North Carolina Cooperative Fish and Wildlife Research Unit.
Department of Forest Biomaterials
The Department of Forest Biomaterials requires students to complete at least one internship before graduation. These experiences are a crucial aspect of the department's curriculum, allowing students to connect classroom knowledge with real-world experiences.
"This experience helps students understand why what they are learning is important, and combining education with hands-on experience solidifies their skills," said Brittany Hayes, the department's career specialist and internship coordinator.
Internships also allow students to gain skills and experience that they can't find in the classroom alone, according to Hayes. Students strengthen their time and project management, teamwork and leadership skills.
"There is a new level of accountability that comes with an internship," she said. "Your role and responsibility impact not only you but also the company and customers you are working with."
This year, students majoring in sustainable materials and technology and paper science and engineering completed internships and co-ops at a variety of companies, including Lignetics, Caragreen, International Paper, and WestRock.
Kelvin Borges, a sophomore double majoring in paper science and engineering and chemical engineering, for example, started a co-op with International Paper, where he's working on a variety of projects as a process engineer.
"I am really excited to keep working here for the next couple of months because I am at a smaller mill which means I have access to a wide array of projects in different departments," Borges said.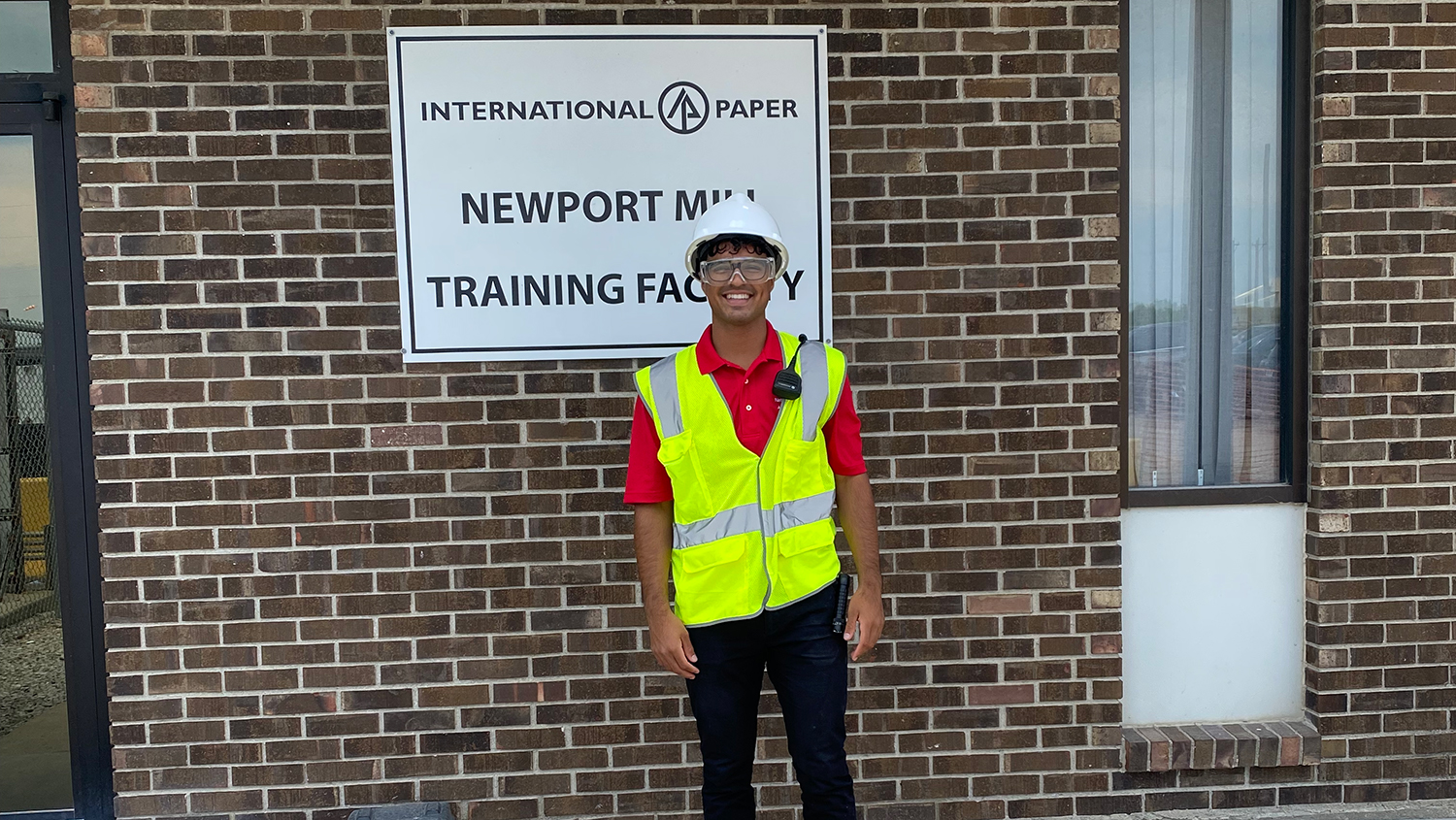 Hayes added that internships not only allow students to see the value of what they learn in the classroom but also allow students to explore potential careers. This was the case for Melzer Morgan IV, a junior studying sustainable materials and technology.
Morgan, who recently spent his summer as a technical analyst for NC State's Hodges Wood Products Laboratory, said: "After graduation, I plan to search for a job in my industry that features hands-on work and sustainable development," he said. "I plan to use other internships and work experiences in addition to my current position to further narrow my search in the job market."
Department of Parks, Recreation and Tourism Management
In an effort to prepare its students for the workforce, the Department of Parks, Recreation and Tourism Management requires all undergraduate students to complete an internship before graduation, according to lecturer and internship coordinator Martha Brown.
Brown said internships are a vital part of the student experience for those pursuing a degree from the department because "our majors are so relationship- and customer-focused."
"Students are really able to set themselves apart from their peers by getting experience in the field and building relationships through networking as much as possible," Brown added.
Internships allow the department's students to gain a better understanding of the importance of leadership, customer service, programming and other skills that they've learned about in the classroom and that they'll need for their careers.
These experiences also provide students with an opportunity to learn about things as simple as working in an office setting or crafting an email to a manager.
"As faculty, we can try to explain these things until we're blue in the face, but until the students can experience it for themselves, it doesn't always register," Brown said.
Brown added that students often come back from internships with a greater understanding of the real world, which they then apply to their classes.
"Students who come back to the classroom after completing an internship seem to finally get that what we have been teaching in the classroom actually has some merit," she said.
This summer, students interned for organizations around the world, from the U.S. Forest Service to the Chinese Surfing Team in Beijing. For example, Victoria Fuda, a senior studying parks, recreation and tourism management, interned for Xanterra Travel Collection in Yellowstone National Park, where she worked to promote sustainable tourism practices.
"This internship has given me the opportunity to see firsthand the process of operations within a large lodging department where the company prioritizes the natural environment," Fuda said. "With this experience and knowledge, I will be more qualified and able to analyze current tourism destinations and determine where and how changes can be made."