Forestry and Environmental Resources Research
COP26 Deforestation Pledge: A Promising Solution With an Uncertain Future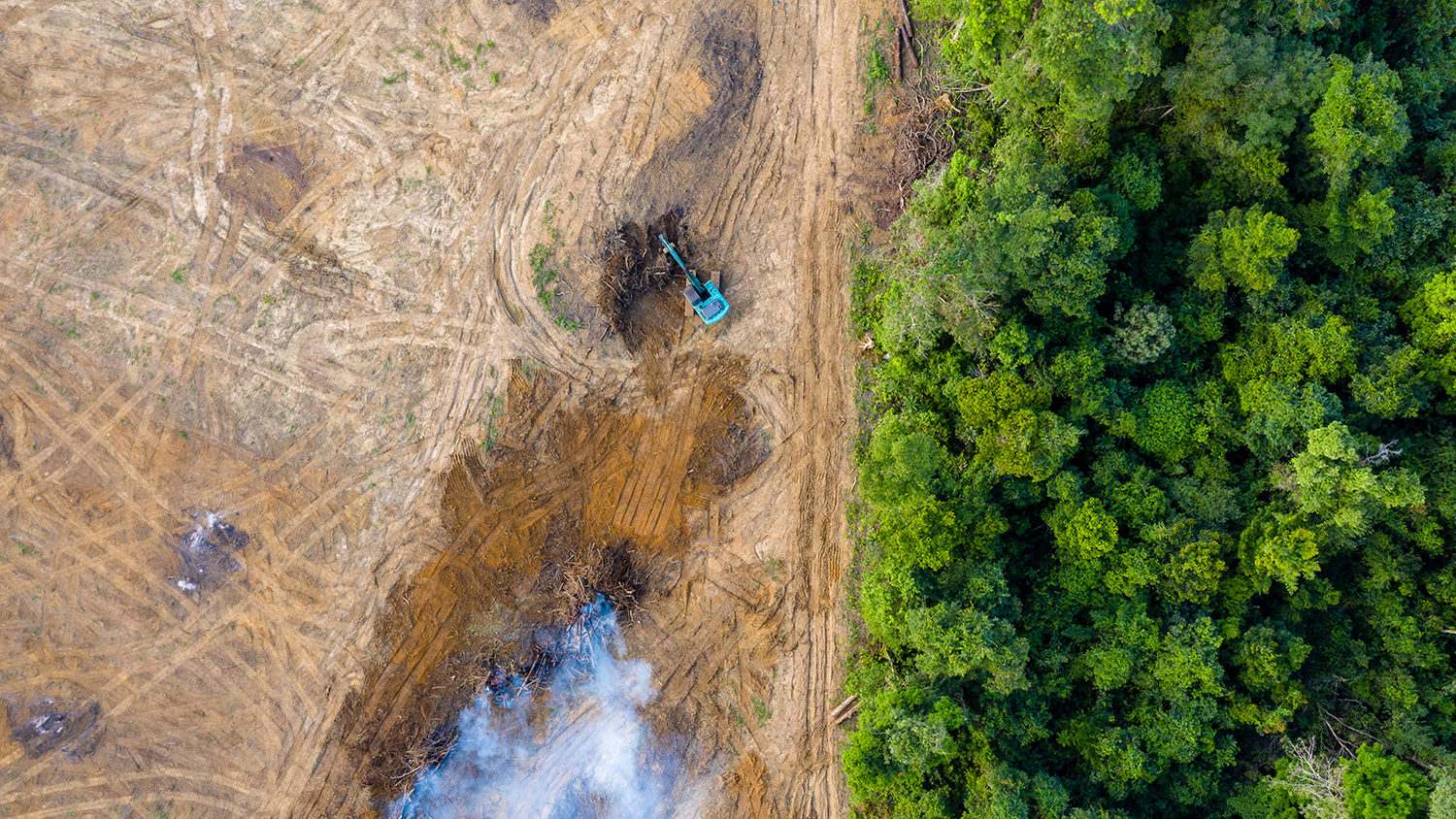 More than 100 countries at the 26th annual United Nations Climate Change Conference (COP26) in Glasgow recently pledged to halt and reverse deforestation by 2030. But environmental organizations have criticized the pledge, noting that similar initiatives in the past failed to reduce deforestation rates.
Justin Baker, an associate professor of forest resource economics at NC State, said the sheer scope of the pledge, which covers some 85% of the world's forests, signals a "substantial and serious commitment" to ending deforestation.
"These are voluntary mechanisms being agreed to at these meetings," said Baker, who specializes in climate change mitigation and adaptation policy. "The fact that you have major emitters of greenhouse gases from deforestation, such as Brazil, at the table participating in this agreement is a good sign of productivity."
Forests play a vital role in not only supporting biodiversity but also mitigating climate change, soaking up and storing carbon dioxide from the atmosphere. In fact, over the last two decades, forests have removed the equivalent of 7.6 billion tonnes of carbon — roughly 20% of global emissions. But when trees are cut down, they release carbon back into the atmosphere. This amplifies the Earth's natural greenhouse effect.
Global commitments have previously struggled or failed to stop deforestation. For example, the 2014 New York Declaration on Forests, which set a target of no deforestation by 2030, failed to meet its interim goal of a 50% reduction by 2020, with tropical deforestation alone increasing by 13% between 2019 and 2020.
The COP26 pledge, however, could prove more effective than previous efforts thanks to its financial commitments, according to Baker. As part of the pledge, a dozen countries have committed $12 billion through 2025 to address wildfires, restore land and help Indigenous communities. The private sector has also committed $7.2 billion, which will be used to support deforestation-free agriculture and nature-based mitigation strategies.
In a study published in the journal Nature Communications last year, Baker and his colleagues at RTI International examined the economic costs of increasing forest carbon sequestration globally, concluding that the costs were substantial relative to the actual financial commitments being made in the forest sector — a finding that illustrates the importance of the COP26 pledge's additional funding commitments.
"The level of funding to-date hasn't really been commensurate with what it takes for the forest sector to achieve mitigation targets," Baker said. "But now that private entities are stepping up to the table through this pledge, there's more money available."
Nonetheless environmental organizations are justified in some of their concerns about the pledge, according to Baker. "I see red flags," he said. That includes the lack of details about how the progress of the pledge's initiatives will be tracked, or what will happen if a participating country retracts its commitment to reducing deforestation.
"If the goal is to end deforestation by 2030, what do the intervening years look like? And how do we ensure that countries stay on-track to hit that goal?," Baker said. "These are often agreements without any real binding clauses or enforcement mechanisms, which are necessary if an agreement like this is going to work."
Baker added that while the COP26 deforestation pledge is an important step forward for climate change mitigation, there is some concern that it could have a negative impact on timber harvesting and other active forest management practices, which could play an important role in reducing the carbon footprint of the United States and other countries.
Under the 2015 Paris Agreement, the U.S. and 196 other countries pledged to limit global warming to "well below" 2°C (3.6°F) above pre-industrial levels, and to also "pursue" efforts to limit warming to 1.5°C (2.7°F) — a threshold that scientists say would lead to irreversible changes to the climate if surpassed.
Because older trees can sequester less carbon over time, harvesting older trees in existing forests and replacing them with younger trees can help countries achieve higher levels of carbon sequestration in some context, especially if harvested trees are used to supply long-lived wood products, according to Baker. The same is true for other active forest management practices such as thinning, which can reduce competition within a forest and provide opportunities for the remaining trees to grow faster and reach their productivity sooner, thus increasing carbon sequestration.
"Active forest management is a climate solution that I think is often neglected," Baker said. "Many people think the best way to reduce greenhouse gas emissions is to preserve forests, but that's not necessarily true. Our research shows that active forest management is not only effective in reducing carbon, but also more cost-efficient."
Land-based greenhouse gas mitigation strategies, including active forest management interventions, have historically been viewed as lower-cost options relative to other strategies such as the decarbonization of the energy and industrial sectors, a "long-term solution that will require hundreds of billions of dollars of investment," Baker added.
A recent study co-authored by Baker in the Journal of Forest Economics suggests that land-based mitigation strategies in the U.S., including forest management interventions, are relatively inexpensive and could sequester up to 440 million metric tons of carbon dioxide per year by mid-century at prices starting at $20/tCO2.
"We need a cost-efficient method of mitigating carbon emissions over the next couple of decades," Baker said. "Forests provide one potential solution."