Blog
Celebrating Black Excellence: Angela Allen is Educating Future Leaders
Allen is the director of the environmental technology and management program in the Department of Forestry and Environmental Resources at NC State's College of Natural Resources.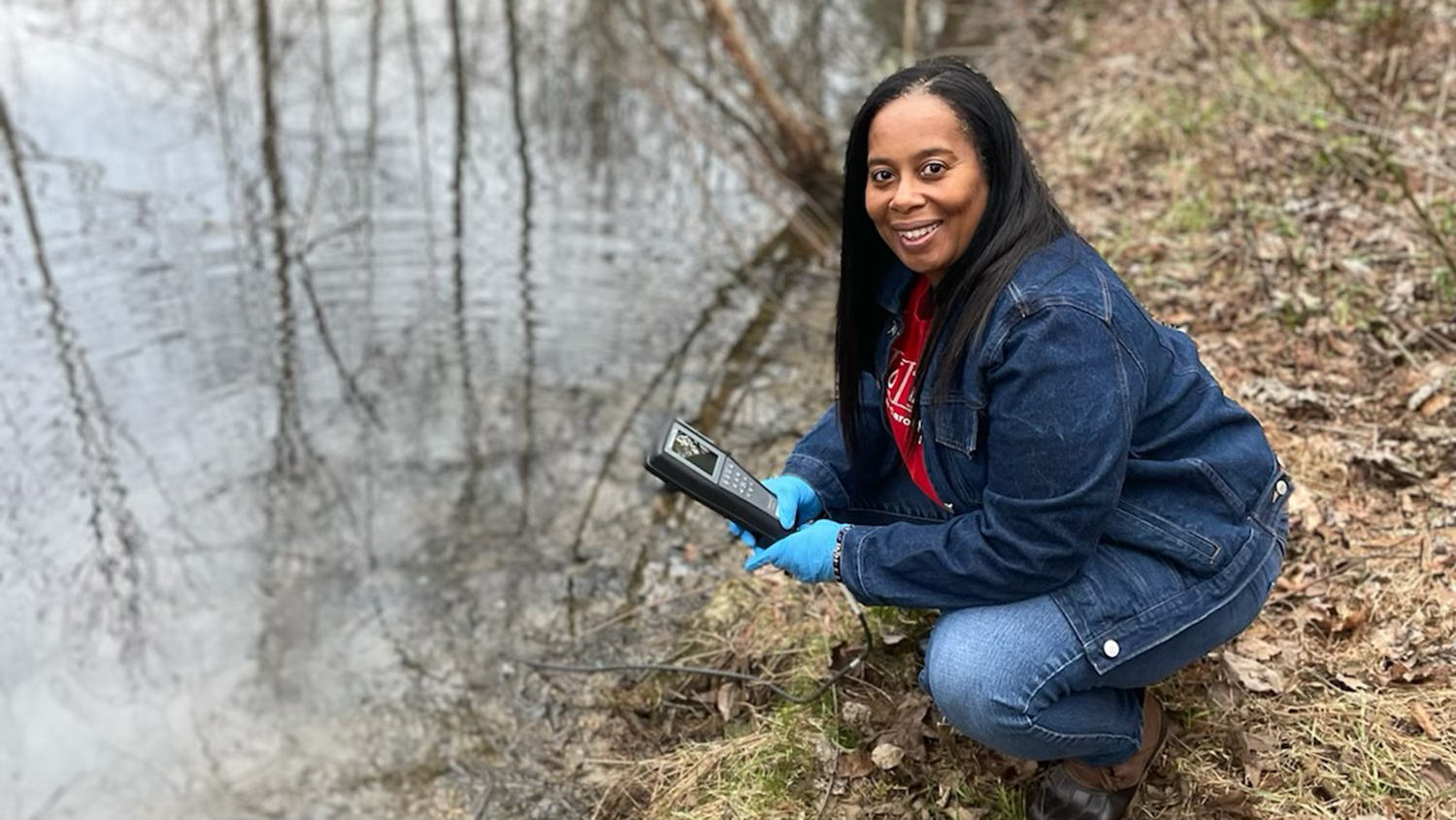 The following Q&A is a part of a Black History Month series highlighting the outstanding contributions Black faculty, staff and students have made to the College of Natural Resources.
Angela Allen is a senior lecturer in the Department of Forestry and Environmental Resources. She also serves as the director of the environmental technology and management program.
Allen earned a bachelor's degree in chemistry from Albany State University. She then continued her education at NC State, where she earned her Ph.D. in chemistry.
Before coming to NC State last year, Allen was an assistant professor and chemistry program coordinator at Shaw University. She also taught at Lenoir Community College, where she served as department chair of natural science and chemistry program coordinator.
We recently spoke with Allen about her experience as a Black scientist in the field of natural resources. Check it out below.
What does Black History Month mean to you?
Black History Month means remembrance of those who fought for me. My mom always made sure my sisters and I participated in the events, from singing in choirs to doing plays. My dad would make sure we watched shows on civil rights, and then we would discuss the moments. In a way, it also helps me to remember my parents because they sacrificed as well.
What inspired you to work in the field of higher education?
Several things inspire me to work in education. But in the field of higher education, I guess I will have to say the challenge and the flexibility. I had the opportunity to teach in the K-12 arena. I must say I love how I can take a class and we all can learn from each other, rather than instructing from a rigid structure. When my class and I have to overcome a difficult topic, it excites me that my classes can be agile to get that "aha moment."
What excites you about your work?
Knowing that I can make a difference in a young person's life — that is what really excites me. However, I am new in this role at NC State, and working with such an amazing group of faculty and awesome students in the Environmental Technology and Management Program excites me about my work too. When a student, undergraduate or graduate, walks down the hall or into my classroom, I want them to know Dr. A will be there and she will always want the best for them.
What has it been like as a Black, Indigenous, Person of Color (BIPOC) to study within your field and pursue your career?
Being a woman of color in the STEM education has been enlightening. In this field, I have learned to keep my options open and never stop acquiring knowledge. I originally studied chemistry, but over the years, I have studied bio-agricultural, biotechnology, environmental, mathematics, and some engineering along the way. Then I have gone from the classroom to administrative roles. And with those experiences, here I am as the new director.
What challenges have you faced in your career?
The biggest challenge is defending my degree. I have come across several occasions where some cannot believe I earned a doctoral degree without obtaining a master's first. Sometimes being a woman of color in STEM can be difficult, but I do not let it bother me. I once did research with cotton, and there were not too many women at that time with a higher degree. Challenges make us better.
Tell us about someone who supported and encouraged you to pursue your work.
I can't say someone, but I can say my parents. I was a teenage mother, and my parents did not let that define me. When classes got rough, my parents gave me words of encouragement. They helped with my son. In graduate school, I had no family in North Carolina so they would drive over six hours to come and help me at a drop of a dime. And as I had to decide to come back to education, they encouraged me that I was doing the right thing — the best support system a kid could ever have.
What words of wisdom do you have for the next generation of young BIPOC professionals entering your field?
To the next generation – be opened-minded. As I have gone through many experiences, I have learned that being flexible and never stop learning will be one of the best advice. Then seek a support system that can help in their journey, like a mentor or a coach.
What do you like to do in your spare time? What are your hobbies?
In my spare time, nowadays, it is all about catching up on what is new on Netflix, Hulu, or the next streaming show. I do like to read a good book. I love physiological fictions. In addition, if I have time, a stroll around the block.