Taking Flight with Drone Research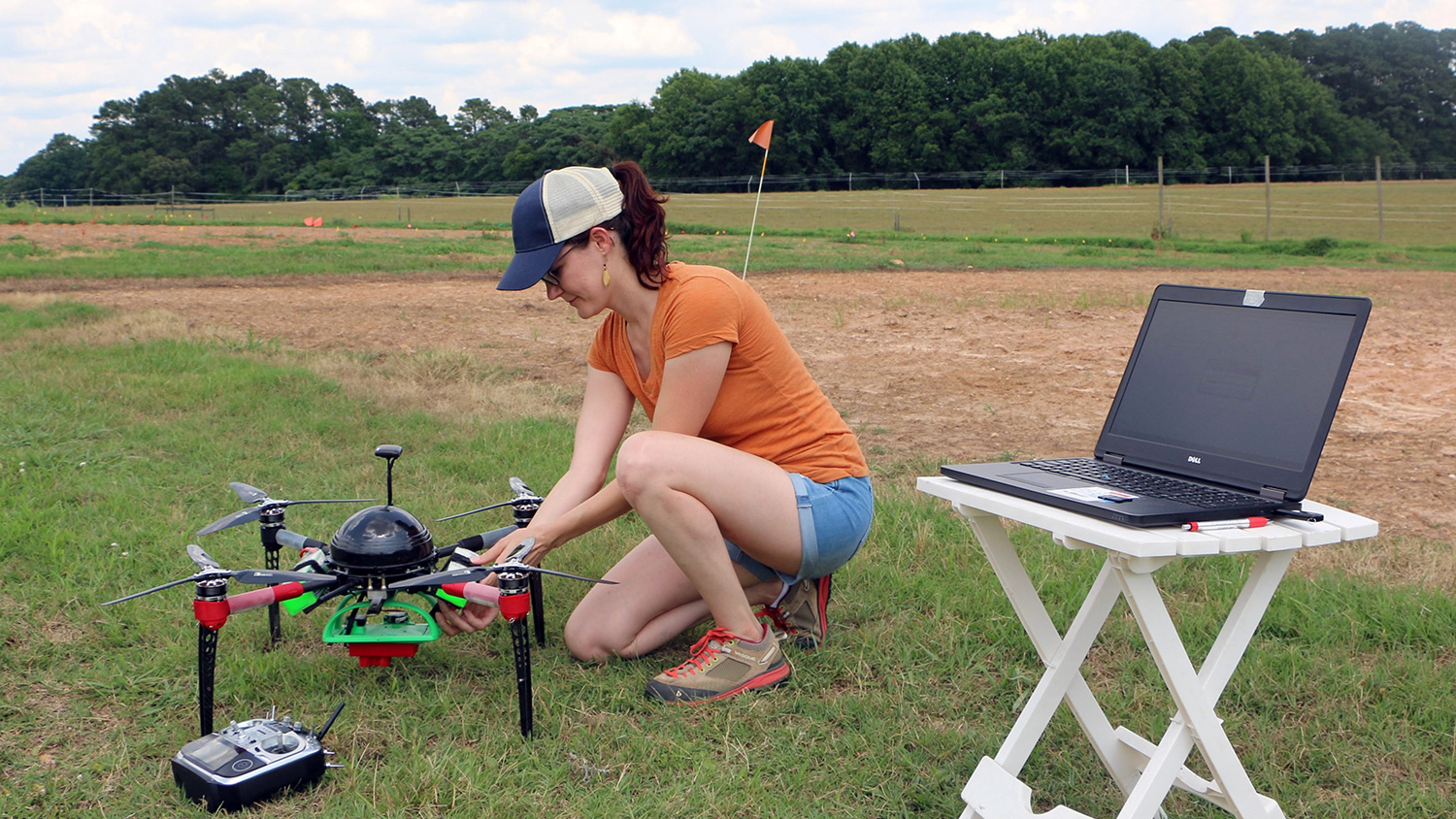 This Fall, Kellyn Montgomery will begin her first year as a doctoral student in the Center for Geospatial Analytics' new Ph.D. program at NC State, and her research with drones is already taking off. Kellyn won a 2018 NASA/NC Space Grant Graduate Research Fellowship to jumpstart her doctoral work this summer, and will work with researchers from the center and across campus on a unique project that combines her passions. Her study, "Crop stress detection using remote sensing from unmanned aircraft systems (UAS)," explores whether drone technology can be used to help find diseased plants in agricultural fields, and consequently expand farmers' capacity to monitor crop health.
"Food security and agriculture are relevant to so many aspects of life," Kellyn says. With a background in geography, she views farming as "a quintessential intersection of humans and the environment." After studying constraints on environmentally friendly pest management in Uganda for her master's degree, Kellyn spent five years in agricultural education and outreach, first with North Carolina Cooperative Extension and then with the nonprofit organization Napa Valley Grapegrowers in California. While out west, Kellyn also took on freelance Geographic Information System (GIS) work for individual vineyards, many of which wanted maps that could help them monitor each grapevine on their land. "I learned that a lot of people were using technology to farm," Kellyn says. Discovering how drones and remote sensing imagery were being used for precision agriculture opened her eyes. "It made me realize that there was a whole new world I could be involved in."
Kellyn knew that she wanted to return to NC State for graduate school and learned about the new doctoral program in Geospatial Analytics after reaching out to Helena Mitasova (center associate director of geovisualization and professor in Marine, Earth and Atmospheric Sciences). Choosing to enroll in the program "was a no-brainer," Kellyn says, with Mitasova as her advisor.
Now Kellyn is working with Mitasova and others at the center on a "proof of concept," she says, for innovating the use of drones in detecting pest and disease damage in crops. Researchers at the center have previously shown that drone-mounted cameras can collect imagery useful for analyzing the shape of a land surface to predict how water will flow over it. Kellyn wonders whether those same terrain analysis techniques can be used to monitor the shape of a crop canopy as it grows, and find anomalies in plant height from stunting or dieback. Essentially, she says, she "will be exploring whether the technique is precise enough to see changes, structural differences in plants" when they are infected with a pathogen. Over the course of this summer's growing season, Kellyn will fly drones over soybean and sorghum fields operated by professors in the Departments of Plant Pathology and Crop and Soil Science to track changes in diseased plants in experimental and teaching plots.
"There are a lot of motivations for this work," Kellyn says, pointing out that many farmers already own drones and are interested in finding new ways to use the data they can collect with them. As drones become more popular and powerful, she and her collaborators will be at forefront of this rapidly growing technology. Kellyn says she has already met many people at NC State who have a common interest in drones, and she is excited by how quickly she is building a supportive network of mentors and colleagues who will assist and encourage her in her research. As she hits the ground running this summer, Kellyn has already begun mapping a very bright future in the field.