Student Success
NC State Students Gain Global Leadership Skills From International Experience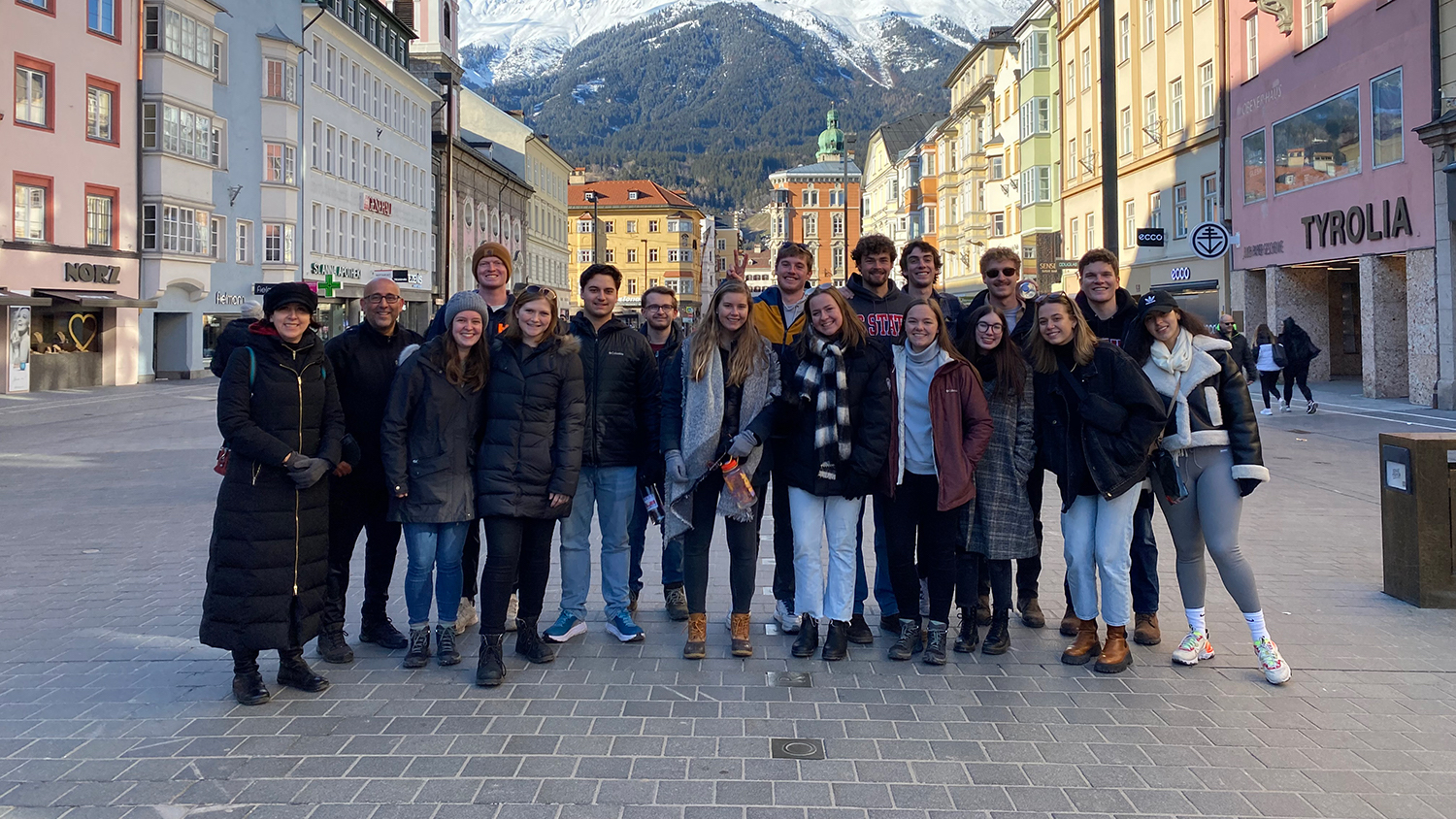 A recent study abroad trip to Austria and Germany — led by a professor at the College of Natural Resources — helped over a dozen NC students gain greater knowledge and understanding of leadership and team decision-making from a global perspective.
The trip was held as part of the Global Leadership Minor, a 15-hour program offered by the Shelton Leadership Center and the NC State European Center in Prague. As part of the curriculum, participating students travel abroad for up to 10 weeks, in which time they complete four two-week courses.
NC State professors from various disciplines teach the minor's courses, alongside professors from each country. Jason Bocarro, a professor of parks, recreation and tourism management, joined the program in 2020 and has since led students overseas.
The 2021 trip was canceled due to the COVID-19 pandemic, but this year's cohort of students were able to visit Munich, Germany and Innsbruck, Austria. Bocarro said planning the trip during the pandemic was a challenge, but it ended up being a success.
While Bocarro's plan for the group to visit Vienna, Austria was curtailed due to COVID-19 restrictions, he contacted research partners in Munich and at the University of Innsbruck in Austria. "They were incredibly gracious, and in seven weeks we put together a course," he said.
This year's cohort of students completed four courses, including PRT 350: Organizational Leadership in Sport, Recreation, Tourism and Event Management, FTM 484: Strategic Management and Decision Making in Textiles, MIE 430: Teamwork in Organizations, and SLC 475: Capstone for Global Leadership and Team Decision Making.
Bocarro co-taught his course, PRT 350, with Kyle Bunds, associate professor of sport management. "The courses build upon each other and each look at leadership and team decision making from a different disciplinary perspective," Bocarro said. 
Participating students also enjoyed experiences outside of the classroom that connected to course content. In Munich, for example, they took classes with German MBA students and attended a research conference. They also visited Olympic Park, which provided an opportunity to discuss the legacy and leadership challenges of mega sporting events.
In Innsbruck, the cohort toured an Olympic ski jump facility and skied in the Alps on weekends. This led to conversations about the scope, economic importance and environmental issues related to the ski industry in Austria, according to Bocarro.
While abroad, students were also able to spend the day with leadership from sport tourism organizations. The Munich group had to conduct their interview virtually, but the Innsbruck group was able to visit their organization, Area 47, in person.
Located in the Ötztal Valley, Area 47 is an outdoor adventure park offering rafting, climbing and other activities. Upon arriving by train, the students boarded a bus. The students spoke with the bus driver for 20 minutes before he revealed himself to be the CEO of Area 47.
Bocarro described the situation as funny, but also an important learning experience: "From a leadership perspective, we talked about this whole notion of modeling the way. We talked about humility as a leader, and then they got to see it embodied in real life."
Callie Haapala, a junior majoring in parks, recreation and tourism management at NC State, said the Global Leadership Minor "brought me a sense of globalization in a way that can only be experienced firsthand."
Haapala, who received support from the Terry Student Assistance and Enrichment Fund to participate in the program, added: "There were so many amazing memories I made from this trip, from going out with the other students to our weekly excursions … I definitely recommend this minor to anyone who wants a new sense of freedom, mindset, and outlook on life itself."
These learning experiences and growth opportunities are one of the core goals of the minor, and Bocarro highlights the sense of resiliency it fosters in students.
"The students were amazing," Bocarro said. "I mean here you've got a challenging situation. They've been locked up for two years because of COVID and they've not just embraced face-to-face education again, but embraced face-to-face education in an international environment."