Forest Biomaterials Research
New Research Program Investigates Carbon Footprint of Fibers to Combat Climate Change
Many companies worldwide use natural fibers to make different products like clothing, hygiene tissue and packaging. However, it's difficult to compare the carbon footprint of different types of fibers because the calculations often use different assumptions and methodologies.
A new global research program led by NC State researchers within the Sustainable Alternative Fibers Initiative (SAFI) in the Department of Forest Biomaterials is underway to profile the carbon footprint and sustainability of products containing conventional and alternative fibers. The three-year program, called Next Gen Fibers, is funded by The Rockefeller Foundation, Climate Breakthrough and Canopy Planet.
"This is groundbreaking research that will help in the fight against climate change by providing quantitative information that consumers can use in their purchase decision-making," said SAFI co-director Ronalds Gonzalez, an associate professor of conversion economics and sustainability in the Department of Forest Biomaterials. 
While conventional fibers are derived from plants like cotton, eucalyptus and softwood, alternative fibers are derived from agricultural residues and industrial wastes. The Next Gen Fibers project will focus primarily on fibers used in the production of textiles, hygiene products and packaging materials, according to Gonzalez.
Climate change is one of the most pressing threats to the natural environment and society, largely as a result of humans releasing large amounts of carbon dioxide and other greenhouse gases into the atmosphere through the burning of fossil fuels and the use of non-renewable resources. The textile industry alone is responsible for 5-10% of global emissions.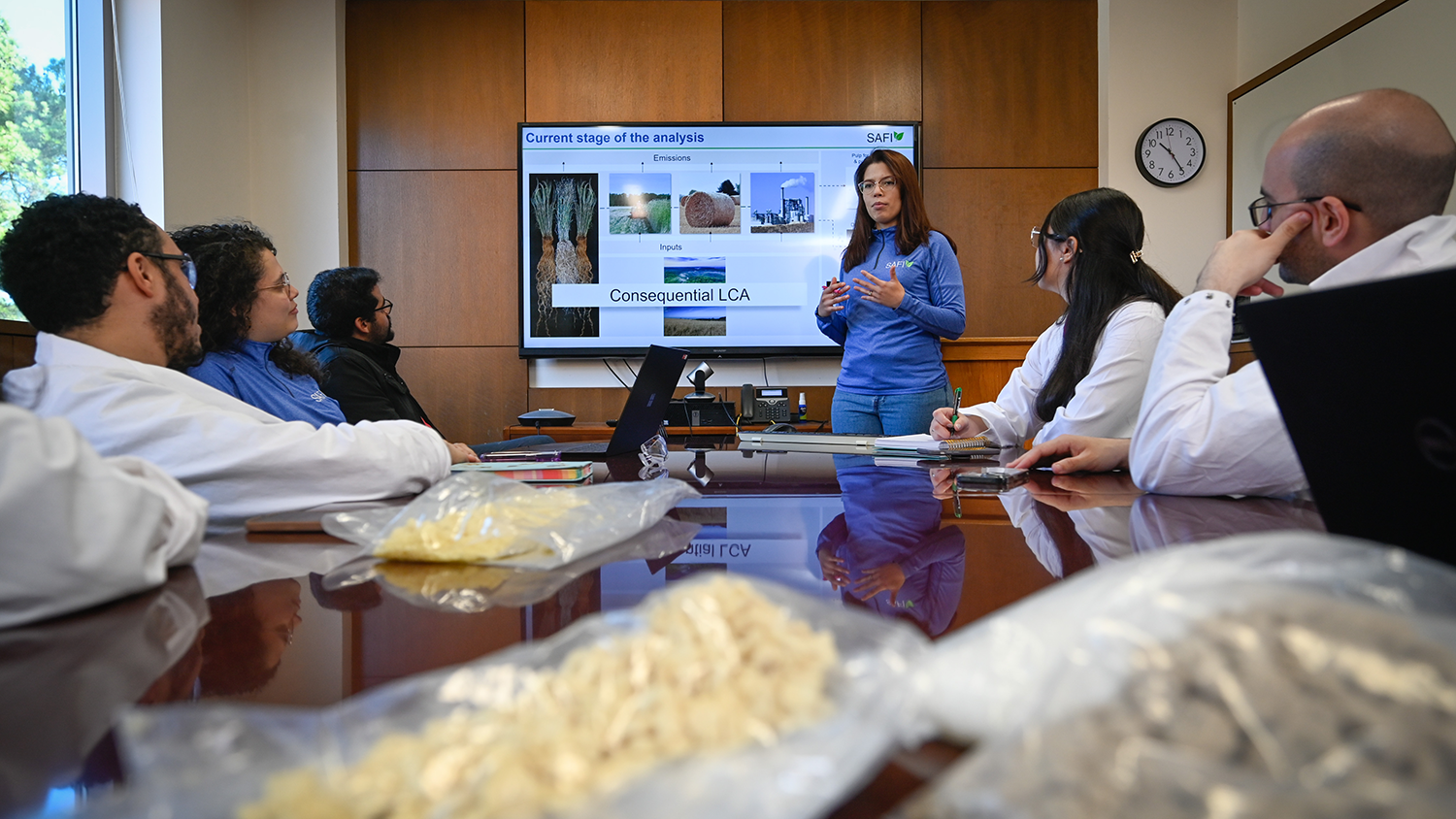 When considering the carbon footprint of these fibers, Gonzalez and other NC State researchers will examine the total amount of carbon dioxide and other greenhouse gases generated, sequestered and avoided throughout the value chain, from manufacturing and processing to reuse, recovery and redistribution.
"By the end of the project, consumers will be able to identify and compare products made out of fibers with a lower carbon footprint while companies will be able to understand how to change their processes so that they're more environmentally-friendly," Gonzalez said.
Established in July 2021, SAFI is the major global university-industry partnership effort focused on researching, developing, and utilizing alternative fibers to manufacture a myriad of sustainable products. The partnership has raised $3 million for research, partnering with 25 companies including Georgia Pacific, West Rock and Adidas.
Gonzalez co-directs SAFI alongside Hasan Jameel, Joel Pawlak, Lokendra Pal and Richard Venditti, also professors in the Department of Forest Biomaterials. The team has more than 200 years of combined experience in the characterization and conversion of biomass to different types of value-added products.
SAFI's mission not only aligns with NC State's Sustainable Development Goals but also the College of Natural Resources' strategic priority of promoting collaborative research that contributes to critical solutions toward sustainable environments, and healthy, prosperous communities.