GIS Service-Learning Solutions for Utility Management, Community Health, Building Resilience and More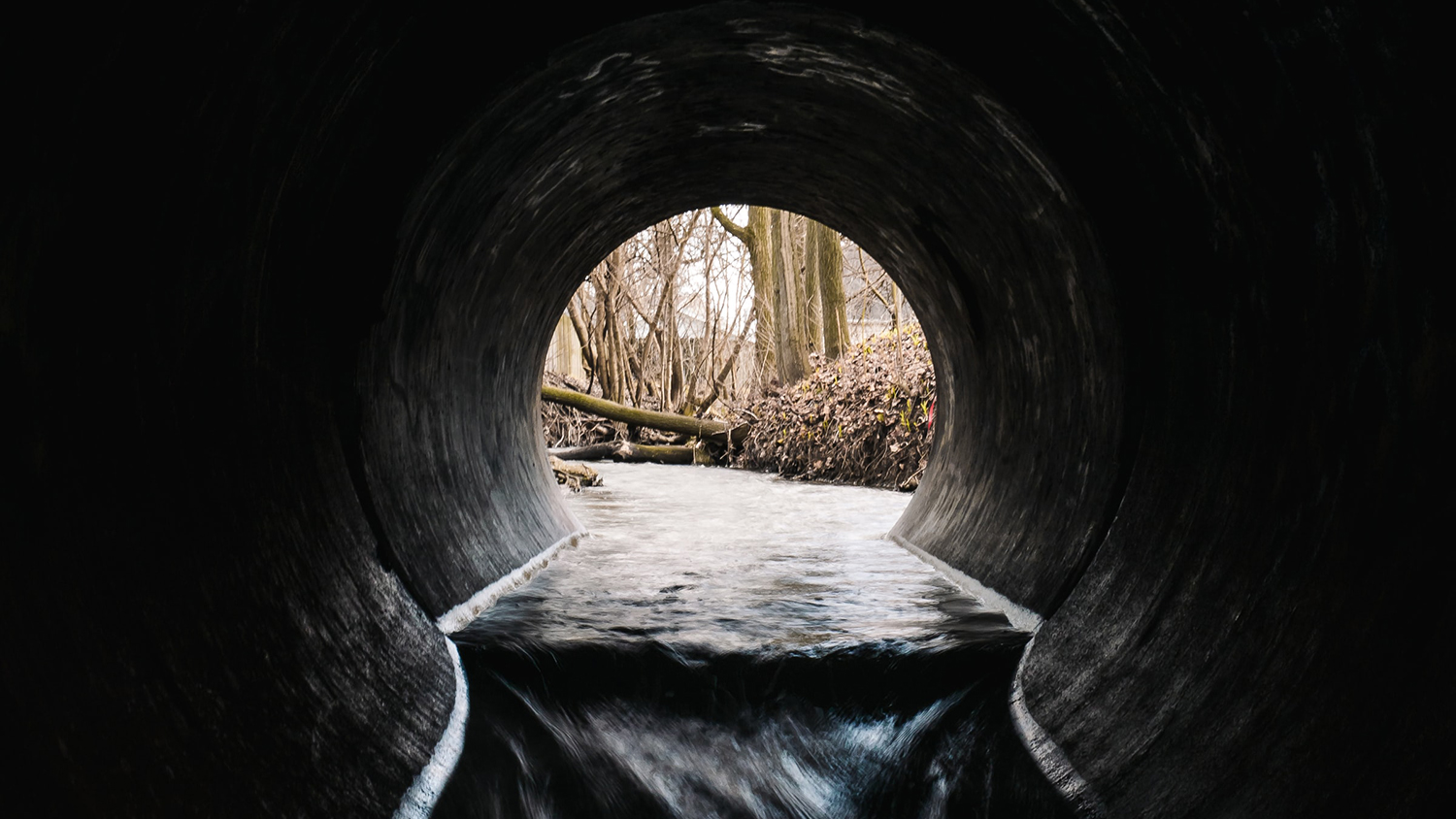 Before graduating, each student in the Center for Geospatial Analytics' professional master's program in Geospatial Information Science and Technology (MGIST) applies their knowledge and skills to a client-supplied problem in a service-learning capstone project.
This semester, projects supported industry, academic, government and nonprofit partners to develop solutions for water utilities, support community wellness, improve data collection, advance research and development, build resilience, assess land change and more!
Read on for a glimpse into the impactful work of our professional master's students this Fall 2021 semester, and be sure to check out their own two-minute video summaries of their projects.
Developing Solutions for Water Utilities
Water and sewer utilities perform services often taken for granted, until problems arise like leaks or flooding. This semester, several MGIST students worked with local utilities to help prevent problems before they happen.
Rachel Porter worked with Winston-Salem Forsyth County Utilities (WSFCU) to help them select new locations for water pressure sensors, which can signal problems with water flow. Using historical information about past pipe failures and water usage, she performed analyses to predict future water main breaks and identify hotspots of water consumption demand, all to determine how to "get the most value out of the least number" of new water pressure sensors. The web mapping application Porter developed allows WSFCU personnel to explore the optimum number and locations of new sensors under a variety of scenarios.
Caleb Williams collaborated with the Water and Sewer Departments of Union County Public Works to identify the spatially variable impacts of heavy rains. "It is expensive to treat wastewater, and so any water that's coming in [to the sewers] that's rainwater and not truly wastewater––you want to avoid that as much as possible," Williams explains. His analysis identifies the pump stations experiencing the highest amounts of water flow from storms and even suggests potential new locations for rain gauges. "I intend for this [web mapping] application to be useful to the Planning and Resource Management Team for some time to come," he says.
Dylan Wingler partnered with the City of New Bern's Water Resources Division to standardize the division's data and create utility management tools. The web mapping application he created will improve communication between field and office personnel, enabling users to digitally flag areas on the water utility network needing maintenance, determine which valves need to be turned off to do the work and visualize affected areas of a temporary shut-off.
Supporting Community Wellness and Public Health
This semester, MGIST students worked with both private and public groups that seek to provide essential support, opportunities and care for North Carolinians.
Sean Farrell partnered with Lifting Inspirations, LLC, which seeks "to inspire young male confidence, character, leadership and community building through weightlifting and mentorship by qualified trainers." Farrell built a web mapping application that can calculate the "risk that youth have for experiencing violence-related trauma in their neighborhood," he explains; the web app then also identifies places where Lifting Inspirations can implement programs to support vulnerable youth in Mecklenburg County.
Jared Poe partnered with Cabarrus County, NC, on a project mapping access to parks and recreation facilities. The web mapping application Poe developed can identify the closest park to a specified location and provides directions and park details, such as hours open and a link to the facility's website.
Brittany Yoder also worked with Cabarrus County, focusing on mapping the deployment locations of the emergency response drug Narcan, which is used to counteract opioid overdose. Yoder developed web mapping applications that will be used by Emergency Medical Service (EMS) administrators to respond to needs, and created public versions of an app and dashboard to show trends in the county.
Improving Data Collection in the Field
Organizations often need to collect location-specific information as part of field research. MGIST students this semester worked to help make data collection easier and more efficient.
California-based archeology contracting firm Archeo-Tec historically used paper forms to collect data afield. To help them go digital, Jaimie Nevins created a way to generate mobile-friendly forms for various uses, enabling staff to capture the locations of archeological objects with high accuracy, automatically upload the information to a shared database, and conveniently add notes, images and other relevant files.
Jacob Daunais partnered with the Mosquito Range Heritage Initiative in Colorado to help field personnel collect data about threatened species as part of their Rare Alpine Plant Project. With the tools Daunais developed, staff can mark the locations of endangered plants on their mobile devices during field surveys in the Mosquito Range Mountains, then upload those data to a central database when they regain internet access.
Advancing Geospatial R&D
Two MGIST students this semester partnered with software company Esri, to pilot projects important to geospatial industry research and development.
Allie Scott experimented with a variety of techniques to implement analysis using machine learning in a web mapping environment. "We have a need to make GeoAI, or geographic artificial intelligence, more accessible to a wider range of customers," Scott explains. "The end goal was to have a way to access deep learning capabilities through a widget in a web application." She discovered that ultimately realizing such a capability would be very costly, in terms of both monetary investment and server space.
Coty Welch worked with Esri's Remote Sensing Team to demonstrate and compare the capabilities of the new cloud-based service ArcGIS Image for ArcGIS Online with the traditional capabilities of Image Server, which is hosted and managed on an organization's server. "Web GIS…allows for more flexibility and insight…for a wider audience that may or may not be familiar with desktop GIS," Welch explains. The demo he prepared will help Esri personnel further develop the software.
Building Resilience Equitably
Recovery from disasters often hinges on available resources, and equitable provision of those resources is essential to address the needs of historically underserved communities. This semester, MGIST students partnered with government and nonprofit groups to assess social vulnerability and resilience.
Peter Erlenbach helped the NC Pandemic Recovery Office (NCPRO) visualize the locations of businesses that received Economic Injury Disaster Loans and Payment Protection Program Loans during the COVID-19 pandemic. Using data that were previously only in spreadsheets, he developed two web mapping applications that allow exploring the data spatially and finding coverage gaps; these analyses will help NCPRO and the NC Department of Revenue ensure that loans reach underserved communities going forward.
Sam Davis collaborated with the Environmental Justice Team of the nonprofit Environmental Defense Fund (EDF) to locate socially vulnerable populations within floodplains across twelve states in the Mississippi River Basin. The web mapping application he developed integrates variables such as median household income, median home value, percent of the population below the poverty line and racial and ethnic composition to identify clusters of socially vulnerable communities that are likely to experience flooding from rivers. The tool will support fieldwork by EDF staff to identify priority areas upstream for implementing natural infrastructure, like wetlands, that can lessen flooding impacts.
Assessing Land Change
From the regional patterns of growing cites to neighborhood-level greenspaces, landscapes change over time. MGIST students this semester developed visualizations and classified imagery to help organizations keep track of trends in land use.
Wyatt Pesta worked with the Urban Systems research group at the Center for Geospatial Analytics to help researchers visualize the output of their FUTURES (FUTure Urban-Regional Environment Simulation) model predicting urbanization and conversion of agricultural land through 2100.
Marcus Perry partnered with Davie County Technology Solutions to update the county's land cover maps, which have remained static since 1990. Acquiring new data from 2018 and existing data from 1990, he created new land cover maps for the two years, classifying imagery into six main land cover classes. The maps will now give county officials and the public a better picture of land cover in the region and how it has changed over time.
Matthew Moy collaborated with Greensboro Parks and Recreation to quantify urban tree canopy at five regional parks. The web mapping application he developed allows users to view land use classes on top of raw imagery and provides a baseline of tree canopy extent for future projects and analyses.
Chantel Williams partnered with Center for Geospatial Analytics Faculty Fellow Bethany Cutts (associate professor, Department of Parks, Recreation and Tourism Management) to determine changes in greenness between 2010 and 2020 in Louisville, KY. Greenness indicates the abundance of healthy vegetation, and Williams' analysis will help assess impacts of "institutional racism represented by historic redlining boundaries" on greenness in the city, she explains. Her capstone is part of a broader project "engaging diverse communities in urban greening efforts by examining public perceptions of the relationship between urban trees, human health, and neighborhood change."
And More!
Aidan Thurling partnered with solar power management company Cypress Creek Renewables to identify factors that contribute to thermal events––fires or anomalies that could lead to fire––at solar energy generation sites. The web app she developed integrates a risk calculator tool that uses factors such as weather, equipment age and proximity to active wildfires to spatially quantify risk. Thurling is the winner of this semester's MGIST poster competition.
Samantha Tan worked with the NC Office of State Budget and Management to identify and better understand areas in the state where predictive models of population did not align with counts from the 2020 Census.
Hank Pelfrey collaborated with the NC Center for Geographic Information and Analysis, an agency within NC's Department of Information Technology, to identify areas of the state without broadband internet access. His analysis explored the characteristics of underserved areas to uncover explanations for "the digital divide," finding that rural areas tend to be underserved.
Michael Spear worked with civil engineering and planning firm VHB to help create an inventory of all roadway intersections in North Carolina. His analysis will help the NC Department of Transportation meet federal requirements and conduct future studies of traffic safety.
Judy Dorner partnered with Person County, NC, to update the Person County Tax Parcel Viewer web application, allowing county government officials, real estate agents, landowners and potential buyers to find the information they need without needing to file a request with the Person County Tax Office.
Thank you to all of our capstone partners, and congratulations to all of our graduating MGIST students on their success!