CNR Tutoring Program
The College of Natural Resources is invested in helping our students achieve academic success, so we offer free tutoring services. Tutors are carefully chosen to ensure that they mastered the content of the courses they tutor.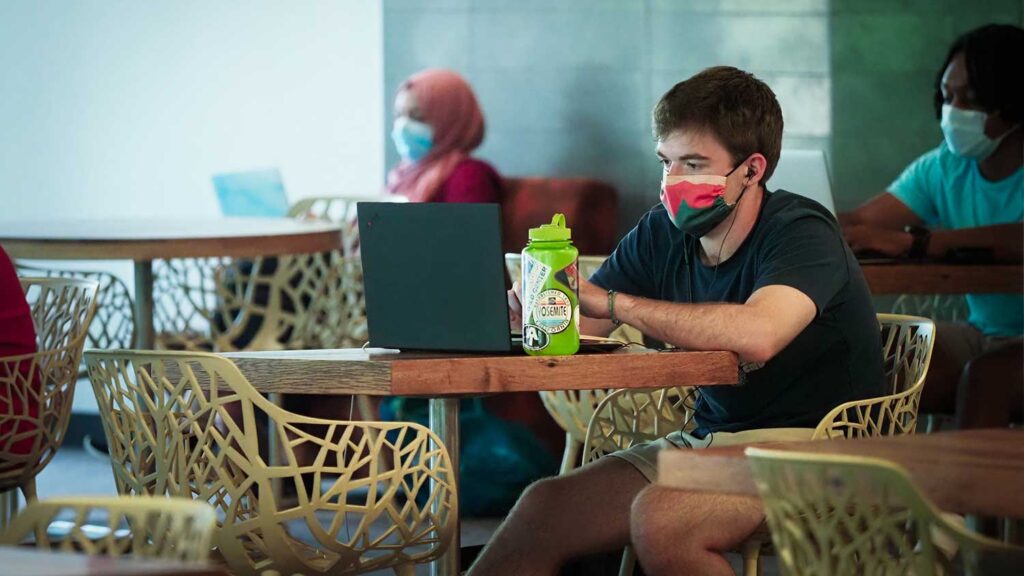 Getting Started
To begin, please watch the orientation video.
To subscribe to our tutoring newsletter, please sign up here
One-on-One Tutoring
To schedule one-on-one tutoring services, please schedule an appointment in the Navigate app or through the Navigate web platform.
For help scheduling appointments in Navigate, please watch this video.
In Navigate, select Advising & Student Services > College of Natural Resources > CNR Tutoring By Appointment (30 or 60 minutes.)
Please note that one-on-one tutoring services are only available to students pursuing majors or minors within the College of Natural Resources.
If you are a CNR student and you are experiencing trouble booking appointments in Navigate, please email the Coordinator of Student Success Initiatives at cnrtutoring@ncsu.edu.
Expectations
Students should come to tutorial sessions prepared having attended class and taken notes, with all necessary books and materials, and having attempted homework and assignments.
The tutor is a successful student, but not a teacher or an expert. Though s/he is a good resource, the tutor will not do the student's work and is not responsible for the student's final course grade.
Attendance and Policies
Students in all tutoring sessions should arrive on time, be prepared for the session, participate actively, and stay for the entire appointment.
Schedule 30 or 60 minutes appointments (maximum of 60 minutes per course per day.)
Students are able to schedule an appointment up to 2 weeks in advance.
Students are eligible to use up to 2 hours of tutoring/week per course.
Students who cannot attend a scheduled appointment should cancel 12 hours prior to the appointment via Navigate (preferred method) or by emailing cnrtutoring@ncsu.edu.
Loss of Tutoring Privileges
Two cumulative appointments "no-shows" will result in the loss of tutoring privileges.
No-shows will be received for the following:
Canceling less than 12 hours before or failure to attend the appointment
Staying less than 20 minutes for a 30-minute appointment
Staying less than 45 minutes for a 60-minute appointment
Attending more than two sessions unprepared
Drop-In Tutoring
Drop-in tutoring provides students easy access to a tutor that can assist them in a select group of courses. For the Spring 2022 semester, we will have tutors in our drop-in center to assist with these courses:
Math (MA 131, MA 141, MA 231, MA 241)
Chemistry (CH 101, 102, 201, 220)
Physics (PY 211)
Biology (BIO 181)
To view our drop-in tutoring calendar with details on which courses will be available, please click here. You can also save this calendar on your own Google Calendar to refer back to.
Schedule and Location
Drop-in tutoring is held in Biltmore 2026 and begins 1/18/2023.
Math and Physics: Wednesdays, 4:30-6:30 PM
Biology and Chemistry: Thursdays, 4:30-6:30 PM
Student Responsibilities
Bring your course materials (textbook, notes, calculator, homework).
Ask tutors for help after you have tried to solve the problem on your own. Be prepared to share your work with the tutor.
Do not expect assistance on WebAssign homework within 2 hours of when it is due since tutors can not adequately help students on assignments at the last minute.
Uphold the University's academic integrity policies at all times. Violations will result in losing your privilege to use CNR Tutoring Program services.
What to Expect from Our Tutors
Tutors are good students who want to help you, but they are not experts and may not have all the answers right away! Please help them help you by preparing ahead of time.
Tutors will give priority to students who are prepared with specific questions.
Tutors will listen to your concerns, as well as offer guiding feedback and suggestions. They will not do your work for you and are not responsible for your final answer.
Tutors will encourage you to develop problem-solving, decision-making, resource-finding, and metacognitive skills to help you become an independent learner.
If you have a tutoring need for which we do not have a tutor available,
please submit this form . We will do our best to accommodate.
Meet our Team
| | | |
| --- | --- | --- |
| | | |
| Ryn Flood | Grace Agnello | Sydney Ford |
| Major: Environmental Sciences | Major: Natural Resources | Major: Paper Science & Engineering |
| ourses Offered: MA 131, MA 231, BIO 181 | Courses Offered: BIO 181, CH 101 | Courses Offered: CH 101, MA 141, MA 241 |
| Schedule an appointment with Ryn | Schedule an appointment with Grace | Schedule an appointment with Sydney |
| | | |
| | | |
| John Mark Polk | Shrusti Patel | Lexi Seal |
| Major: Fisheries, Wildlife, and Conservation Biology | Major: Environmental Technology & Management | Major: Environmental Sciences |
| Courses Offered: CH 111, CH 101, ST 311, BIO 181, FOR 172, FW 221, ARE 201 | Courses Offered: BIO 181, CH 220, PB 360, ST 311 | Courses Offered: BIO 181, SSC 200 |
| Schedule an appointment with John Mark | Schedule an appointment with Shrusti | Schedule an appointment with Lexi |
| | | |
| | | |
| Papa Gueye | | |
| Major: Forestry, MS | | |
| Courses Offered: GIS 280 | | |
| Schedule an appointment with Papa | | |
Want to Join our Team?
If you are interested in joining our team as a tutor, please fill out this CNR Tutor Interest Form.
The Academic Success Center
The Academic Success Center (ASC) also has assistance for writing and speaking (which is open to undergraduate and graduate students) by appointment. Programs include an academic peer mentoring program for students who want regular support with time management and study skills, drop-in tutoring, group and one-on-one tutoring, writing appointments, and supplemental instruction.
Some of the services the ASC offers includes:
Tutoring for Courses Outside of CNR