Diversity and Inclusion
We are committed to creating an environment where diversity and inclusion are celebrated and valued. Diversity opens the door for innovation as people from all backgrounds work together to solve today's complex problems. Inclusion involves empowering all community members to reach their highest potential academically, professionally and personally.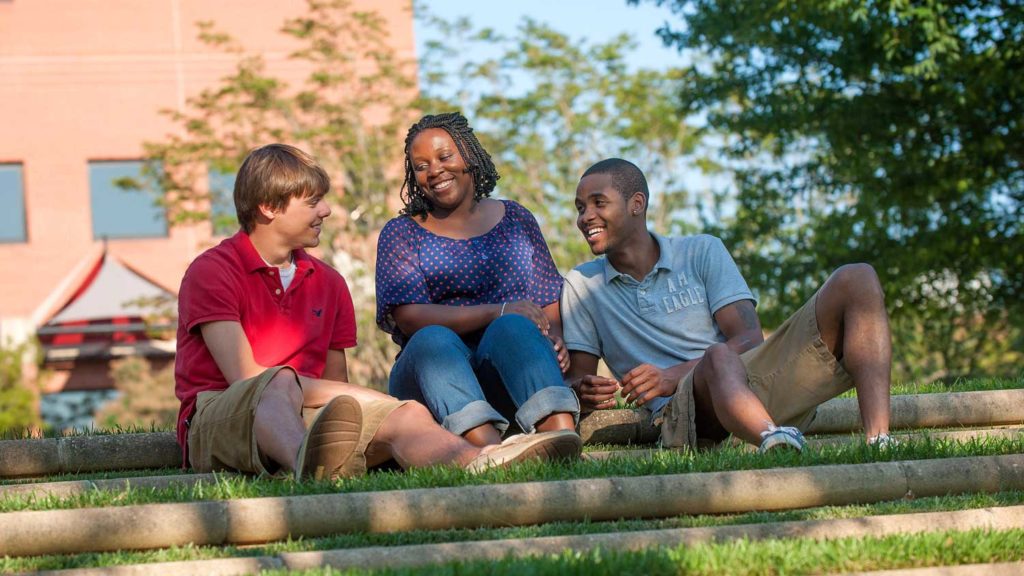 How do we do this?
Strive to increase representation of individuals from diverse backgrounds in our students, staff and faculty.
Seek ways to bring people together to learn, grow and create as a team.
Collaborate with community partners to provide support for students, staff and faculty.
As a college dedicated to securing a healthier, more sustainable future for all, we understand we need individuals from all backgrounds to accomplish this and we will continue to do our part in making our goal a reality.
Service and Support
Open Door Policy – stop by for a 'just because' visit or for conversations about getting involved on campus
Project SAFE and GLBT Advocates – we are committed to providing a support system, as well as access to training for those interested in participating
Green Zone Certified – military-affiliated students, let us serve as your home unit in the college
CNR Ladies – provides professional, social and community service opportunities and is open to all students, staff and faculty who identify as female
Engaging Leaders – program for first-year students (traditional and transfer) in the college focused on cultural awareness and leadership
Freshman Advancement Seminar – a course that encourages students to explore the role of their identities within in their chosen career fields
"Diversity, or the state of being different, isn't the same as inclusion. One is a description of what is, while the other describes a style of interaction essential to effective teams and organizations." – Bill Crawford
Fall 2022 CNR Diversity and Inclusion Events
CNR Student DEI Spotlight Symposium: November 9 and 10
The Office of Diversiy& Inclusion is exciting to announce the CNR Diversity, Equity and Inclusion Spotlight Symposium! The symposium is designed to shine light on students who are doing work in the area of diversity, inclusion and equity. Students may enter the symposium under the one of the three categories: research, campus initiatives or community engagement. Winners will receive monetary awards. Details to come via email.
Crosstalks: Multicultural Graduate Student Series
Multicultural graduate students will have an opportunity to connect with students with similar backgrounds from across campus in various ways: academically, professionally and socially. Dates to be announced via email. Frist September 7thfrom 1:45 –3:00 pm Talley.
Graduate Student Series
Graduate students, let's continue our time together building a community for you and with the College of Sciences. Professional sessions as well as social sessions to come! Dates to come via email.
CNR DEI Vouchers (TBD)
Students, staff and faculty interested in implementing something new, building out an existing program/event or researching a topic related to diversity, equity and inclusion? Here is a chance to do that with the support from the D&I office. Recipients would receive up to a value of $500 to support efforts to create more inclusive and equitable spaces in CNR or extended community. More to come.
GLBTQ+ in STEM Program (virtual program)
Open to all students, staff and faculty who want to make spaces more inclusive for the GLBTQ+ community. The program will begin in September and you must complete by the last day of class in November. Components of program completed via Moodle. Receive certificate upon completion. Details to come via email.
Women of Color in STEM
Open to all students, staff and faculty who identify as a woman of color. Spend time building community with those from similar backgrounds. Engage with topics connected to academics, professional and social settings. Interested in receiving the emails email sdgrays@ncsu.edu to sign up.
DEI Lunch & Learn
Open to all staff and faculty to learn more about integrating diversity, equity and inclusion into your work environments. This is in partnership with the College of Sciences.
Multilingual Research Symposium: TBD
Back by popular demand…experience culture by listening to research conducted by fellow classmates, colleagues and partners in their native language! Learn to make presentations more inclusive for those who may not speak your language. This is in partnership with the College of Sciences.
Free Graduation Regalia for Borrow: December 2019 Biltmore 2022D
Office of Diversity and Inclusion and college partners (FER student services and Rho Phi Lambda) are excited to again offer students who may need it, a chance to check out (borrow) graduation regalia for December 2022! Cost of graduation can be high and we hope this service will help ease that.
Mental Health Resources
NC State resources available
Off-campus resources available
Campus Resources
Contact Us
Questions or want to join our community?
Dr. Stacy Nelson, Interim Associate Dean for Diversity and Inclusion
sanelso2@ncsu.edu
Dr. Shaefny Grays, Associate Director
cnr_diversity@ncsu.edu
Mailing Address:
College of Natural Resources
Biltmore Hall, Room 2022B
Campus Box 8001
Raleigh, NC 27695-8001