Forest Management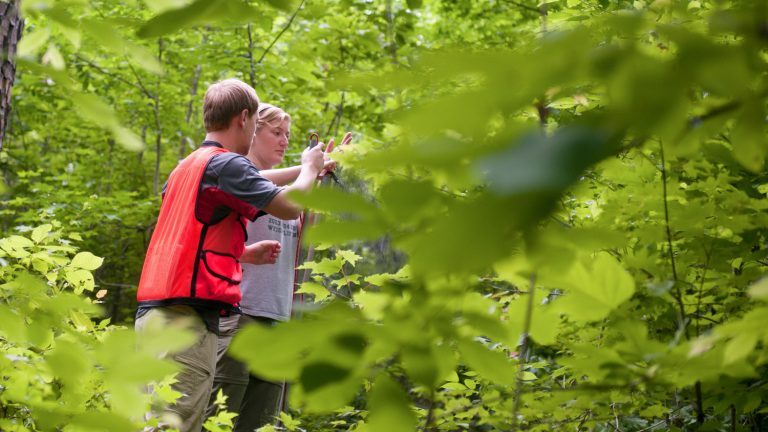 What is Forestry and Forest Management?
Trees and forested ecosystems are a critical part of our earth, our economy and our way of life, from reducing carbon pollution and purifying groundwater to providing timber for buildings and pulp for paper products. Forest Management is a STEM (Science, Technology, Engineering and Mathematics) major that prepares graduates to sustainably manage our natural forest ecosystems and forest plantations.
Through coursework in ecology, soils, sustainable forest management and economics as well as regular trips to the college's Schenck Forest just 10 minutes from campus, students gain the knowledge they need to protect wildlife habitats, manage water resources, improve forest health, produce timber, and restore damaged ecosystems to support the needs of society.
After sophomore year, students spend nine weeks in the forest at "Summer Camp." During this unforgettable summer, students live, learn and work in the forest studying forest measurements, plant community ecology, silviculture, fire management and wildlife management.
Our Forest Management Program is fully accredited by the Society of American Foresters (SAF) and is a great fit for students looking for an environmental career that takes them outside. Our students graduate prepared for a wide range of professions from consulting forestry to restoration ecology.
Concentrations
Ecology focuses on natural forest ecosystems
Production focuses on forest industry and forest plantations
Forest Management Curriculum
Semester by Semester Plan for Ecology
Semester by Semester Plan for Production
Popular minors include Plant Biology, Agriculture Business Management, Wildlife, Soil Science, Horticulture and Genetics.
Our students get jobs
Forest Management majors have a 93 percent job placement rate within three months of graduation.
Learn More About Forest Management
What can you do with a Forestry degree?
Our Forest Management majors graduate with options. From pursuing careers in the field with private industry or the government, to continuing their research at the graduate and Ph.D. level.
Sample Forest Management Careers
Land Conservation Specialist – Develop and implement conservation programs for public or private landowners to improve forest or land restoration efforts. Recent employers include The Nature Conservancy and the U.S. Bureau of Land Management.
Consulting Forester – Offer advice and services to private land owners about sale of forestland, landscape planning, pest control, timber stand improvement, wildlife management, timer sales and more. Recent employers include Weyerhauser and Georgia-Pacific.
Environmental Biologist – Conduct on-site research in your specialty field, as well as develop wildlife management strategies and environmental conservation efforts. Recent employers include the Rocky Mountain National Park.
Extension Agent – Develop and deliver educational programs to assist with economic and community development, leadership, agriculture and environmental issues. Recent employers include NC State Extension.
Certified Forester – Assess forests for timber sale, wildlife management, pest management, economic viability and landowner goals. Recent employers include International Paper and Rayonier.
Service Forester – Conduct wildlife and natural resource management, enforce state and federal laws, develop and implement educational programs, fight forest fires and provide emergency response when needed. Recent employers include NC Forest Service and Alaska State Department of Natural Resources.
Timberland Appraiser or Procurement – Appraise, buy and sell trees, forests and forestland. Recent employers include J.W. Jones Lumber Company, WestRock, Timbco and Hunt Forest Resources.
Wetlands Specialist – Improve and maintain water resource cleanliness, implement remediation projects, monitor and analyze wetland data, collect soil samples, track aquatic life, survey wetlands and write reports. Recent employers include the U.S. Fish and Wildlife Service.
Forestry Technician – Conduct harvest preparation, reforestation, tree stand care, erosion control and habitat improvement, in addition to planning, assessing, inspecting and directing forestry projects. Recent employers include USDA Forest Service and C. Maynard Johnson Consultant Forestry.
Forest Management Specialist – Execute timber surveys, develop and maintain forest maps, analyze wildfire statistics and coordinate fire control, and provide technical consulting with industry and government. Recent employers include Carolina Tree Care and Hancock Forest Management Group.
Forestry Careers
The forest products industry employs more than 1.6 million people in the U.S. and is a vital part of rural economies.
Hands-On Experiences in Forestry
Next Steps
Schedule a Visit to the College of Natural Resources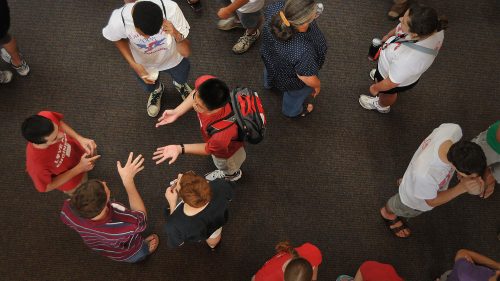 Learn about our Scholarships
Contact our College Recruiter
STEM Majors related to Forest Management