College of Natural Resources Transfer Student Visitation Day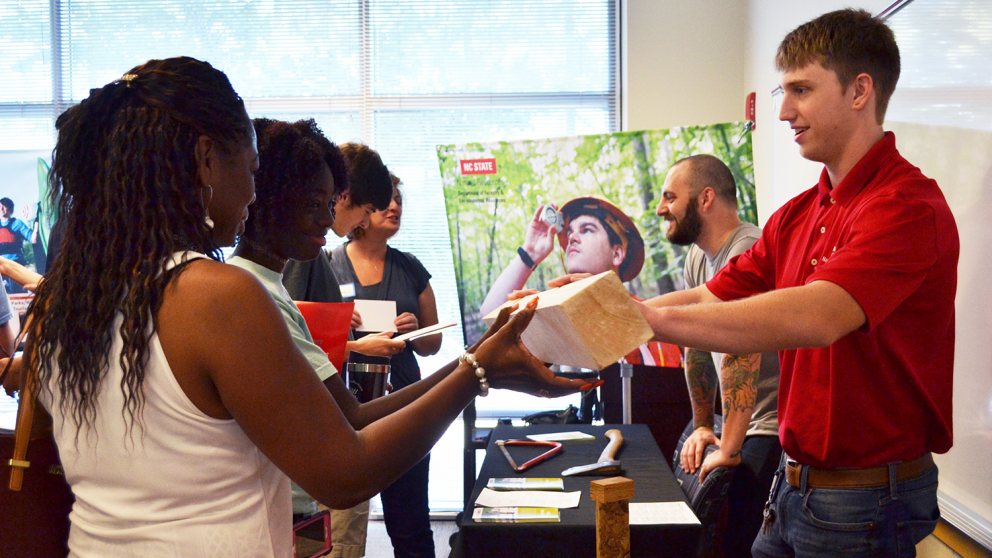 You're Invited!
The College of Natural Resources at NC State University has a wide range of majors with great job placement rates. Whether you are a potential transfer student interested in engineering, environmental science or business, we have a program that could be a perfect fit for you. Spend the day learning more about the options available at NC State and what it takes to become a student here! Our majors include:
Registration closes on January 31
We want to meet you! Register to attend this special event.
Environmental Science
Sport Management
Paper Science and Engineering
Fisheries, Wildlife, and Conservation Biology
Environmental Technology and Management
Natural Resources
Parks, Recreation, and Tourism Management
Forest Management
Sustainable Materials and Technology
Professional Golf Management
Event Information
The event will be held on Friday, February 1, 2019
Jordan Hall Addition
2720 Faucette Dr.
Raleigh, NC 276895
(located at the corner of Morrill Drive and Faucette Drive, near Western Boulevard)
View on campus map
Parking instructions will be sent one week prior to the event.
Schedule
8:00 am – Registration
8:30 am – NC State Welcome and Overview
8:45 am – What the College of Natural Resources Has to Offer
9:15 am – NC State Transfer Application Process
10:00 am – Break
10:15 am – Panel of Current NC State Students
10:45 am – Hands-On Exploration of Majors
12:45 pm – Lunch at Fountain Dining Hall
1:30 pm – Individual Advising Time
2:15 pm – Optional Campus Tour
Registration Details
This event is free for all potential transfer students. Guests are welcome to attend, but are not required. All attendees should register here.
For more information, contact our Recruitment Team at cnrrecruitment@ncsu.edu or call (919) 515-6191.
Getting to Campus
Due to limited parking on campus, final parking information will be sent 1 week prior to the event.
85,000 acres of premiere forest
Our students, faculty and staff use our forest lands as learning labs for hands-on research.
Things To Do Before Open House