Staff Spotlight: Meet Gabriella Sinkovic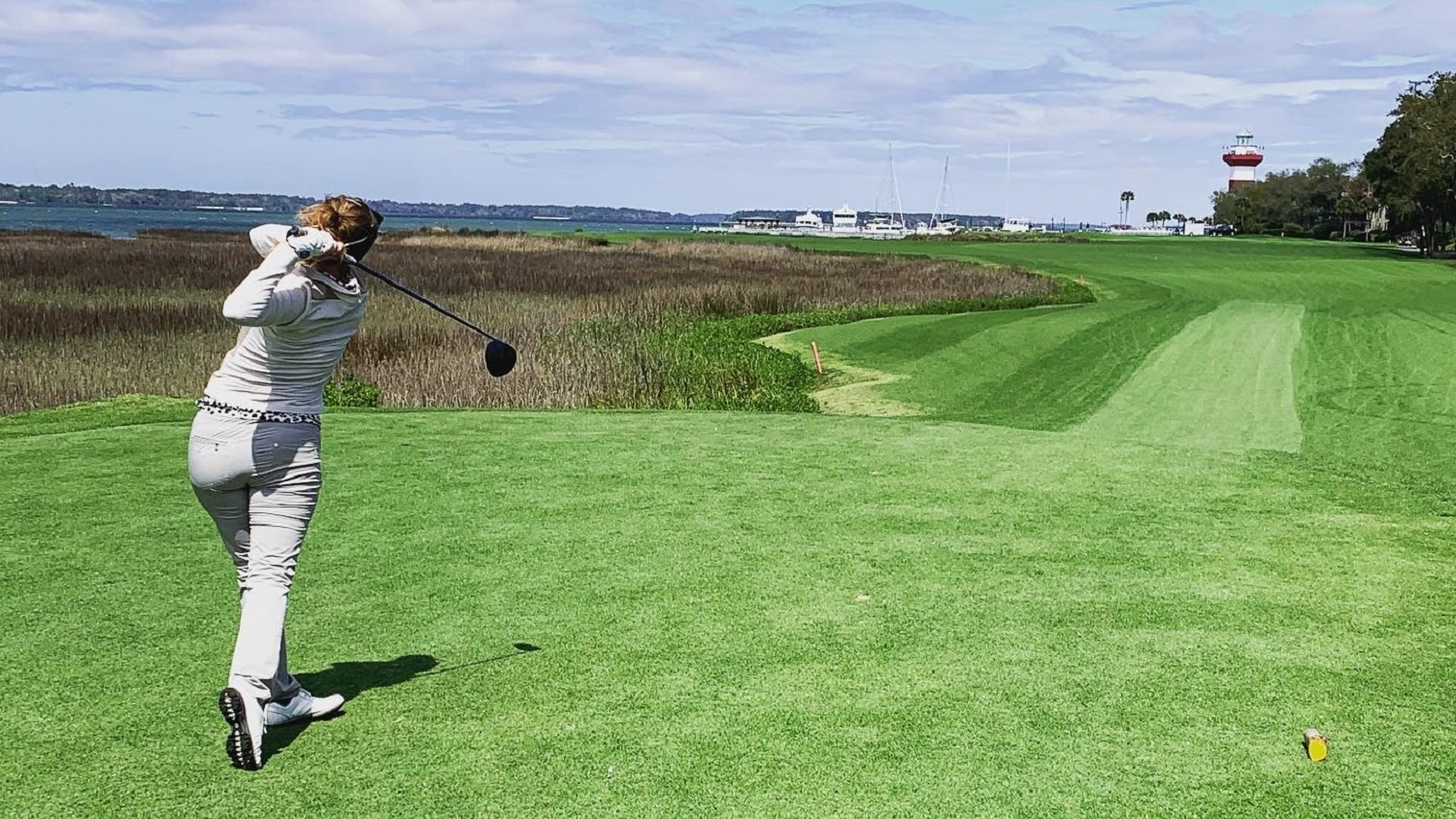 Gabriella "Gabby" Sinkovic is an Undergraduate Programs Associate for Parks, Recreation and Tourism Management and Professional Golf Management. She joined our department in 2017 and is a passionate recruiter for NC State's PGA Golf Management program — one of 18 PGA accredited university programs nationwide.
An Interview with Gabriella
Where were you born? Where have you lived?
I was born in Bowie, Maryland until coming to college at NC State. I've lived in Oregon, Minnesota, and Florida for various positions in golf before I came back to North Carolina and NC State.
What were your favorite subjects in school?
AP Government was my favorite class in High School. I had a great professor and a presidential election make things interesting! In college, besides my PGM classes, I enjoyed taking Weather and Climate courses.
When did you get interested in golf?
My dad signed me up for week long summer junior golf camps when I was 9 or 10 year old. I was told I was "a natural."
Did you play other sports growing up?
Yes, softball. I was on the Varsity Softball team as a freshman (the only freshman, actually), but I gave it up going forward because it cut too far into the golf season in the beginning of the spring and summer seasons.
How did you decide to pursue a BS in PGA Golf Management at NC State?
My coach's daughter went to Florida Gulf Coast's PGM program. Once I learned about that one, I visited the schools I thought I'd most enjoy. I was a 4.0 student from a big high school so I wanted a big Division I school with strong academics. But I didn't want to be too far from home. Raleigh was the perfect match being only 4.5 hours away.
What was the best part of this program?
Camaraderie and the internships. I needed a family support system which PGM provided, and the internships were crucial to trying different avenues in golf. I did something different on each of my four internships.
What is the most interesting golf course you have played on? Why?
Ooh hard question. The prettiest and most fun course was Riomar Country Club in Vero Beach, FL where I worked for 3 seasons as an Assistant Golf Professional. Seven of the first nine holes are on the Atlantic Ocean. The most intriguing and stimulating course was Interlachen Country Club in Minneapolis, MN, where I also worked for three seasons. It's an extremely difficult course, but I never grew tired of it even when playing weekly with members.
How have you seen the game and industry change for women since you started playing? What's better? What still needs to improve?
When I recruit at high school events, I am amazed at how big some of the girls golf teams can be in this area. I think more ladies are being introduced to the game but we have to keep them interested with it too. I regularly make people's heads turn when people drive off in their cart after teeing off from the men's or back tees and they either forget I have to tee off, or they assume I'm going to play the forward tees, which I do not. Also, I love seeing courses that have different names or colors for their tee markers because it gets us away from "ladies", "senior", and "men's" tees. I believe you should be able to play where your drive and game allow for you to play your best.
What do you enjoy most about your job?
I always get really excited and renewed when I meet with families and prospective students that are so passionate about joining the PGM program, especially ours at NC State. I know what we're capable of achieving for our students and I want us to continually improve our experience for them.
You've worked at the Augusta National Women's Amateur two years now. What's the most surprising part of that experience? What is the hardest?
I continue to be impressed by the ladies that compete each year. They are so down to earth and incredibly honored to be in the event. Our interactions with them are genuine and we love seeing the excitement on their faces each year. It must be something the staff at Augusta National see on a daily basis. The hardest part of the experience comes with the long hours and being away for eight days. On the Player Support Staff, we don't have difficult job tasks but the length of time you're on your feet and mentally and physically "on" does takes a toll after a week.
What made you decide to pursue a masters in Education? What do you hope to do with this degree?
I was considering multiple graduate programs, but landed on the Higher Education Administration program in the College of Education because of it's overall connection to university life and administration. The program features a strong component to social justice, and I feel as though what I'm learning is practical for helping students on a regular basis in my role. I understand how they're developing and why they're struggling or thriving in certain situations.
Can you tell us about our family?
My mom is from Bowie, Maryland and works for the Maryland General Assembly in Human Resources. My dad is from Detroit, Michigan so I'm a big Detroit sports fan which takes a toll. My dad is a pastry chef. He and my mom owned a bakery for 20 years in Bowie, which was a highlight of my childhood. I have a little brother studying Elementary Education here at NC State and all four of us have names that start with G. In December 2021, I'm getting married to my fiancee who is a former golf pro turned accountant.
Your childhood sounds yummy. What is your favorite pastry?
Almond croissants were one of my favorites, especially when my mom made tuna fish sandwiches on the croissant and sent me to school with it. So good!
Favorite show? Last book read? Podcasts you like?
I'm currently watching Mortgage or Marriage on Netflix, partly because I'm in the process of planning a wedding myself! I'm in a book club with my fiancee's family, so I'm currently reading The Midnight Library. I'm a huge fan of Dave Ramsey podcasts and listen to them back-to-back on long car rides.
What is your favorite golf club? And why?
Ask any of our freshmen in PGM and they'll tell you I don't miss a fairway, so I'd have to say driver!
What would we always find in your golf bag?
Currently I play PING clubs, but all of my headcovers represent different places I've worked. I also collect poker chips from everywhere I've played so you never know which one I'll pull out for a round!