Study Abroad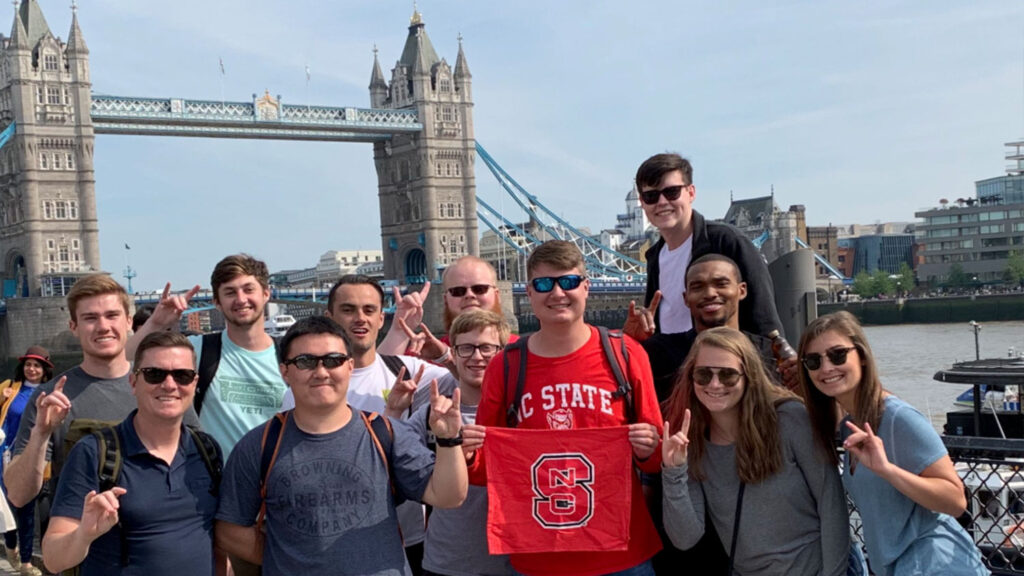 Expand Your Education
The Department of Parks, Recreation and Tourism Management strongly encourages students to study abroad during their time at NC State. These experiences not only provide an excellent opportunity for students to immerse themselves in new cultures, but to also to develop a more comprehensive vision of their academic and career goals. Our department currently offers several programs that fit different interests, scheduling and budget needs. Below are a few of our recurring opportunities:
UK/Germany: Sport Programs and Facilities Sport events, organizing bodies, sponsors, and media increasingly operate on a multinational scale and cross-cultural contexts, necessitating international sport competencies from students entering the workplace. This multi-country study abroad program offers students the opportunity to engage with industry professionals and scholars that can provide a multinational perspective on sport programs and sustainable facility management.
Australia/New Zealand: Human Cultures and Natural Environments This faculty-led program explores the interdisciplinary and complex relationship between humans and the environment, with a focus on topics related to conservation, natural resources, protected areas and sustainable development through educational travel, field trips, active participation, lecture presentations, seminars and coursework exercises. You can expect experiential learning, exposure to new environments and communities, and insightful local guides and instructors.
To explore other study abroad opportunities or to complete an application, visit the NC State Study Abroad website. Before you travel, be sure to visit the NC State Travel Clinic for comprehensive and personalized recommendations, medications and vaccinations for your trip.
Funding Study Abroad Opportunities
The Department of Parks, Recreation and Tourism Management has a strong tradition of helping fund study abroad experiences, including semester-long, summer and spring break programs. To be eligible for travel grants, students must apply to a program through the Study Abroad Office. Visit this page to view upcoming application deadlines.
Other funding opportunities include:
The College of Natural Resources Student Assistance and Enrichment Fund is open to all undergraduate students enrolled in the College of Natural Resources. The fund supports extra or co-curricular enrichment experiences like study abroad, high-impact internships and academic research, through scholarships and stipends.
The Benjamin A. Gilman International Scholarship Program provides scholarships to U.S. undergraduates with financial need for study abroad, including students from diverse backgrounds and students traveling to non-traditional study abroad destinations. Established under the International Academic Opportunity Act of 2000, Gilman Scholarships provide up to $5,000 for American students to pursue overseas study for college credit.
Confucius Institute Scholarships are available to non-Chinese undergraduate students who want to learn Chinese, Chinese culture or study toward a university degree in a Chinese university.