Clubs and Organizations
Joining student clubs and professional organizations is a great way to get involved and pursue your passions. Browse some of our department's groups below and find a family of like-minded students waiting to welcome you to the Wolfpack.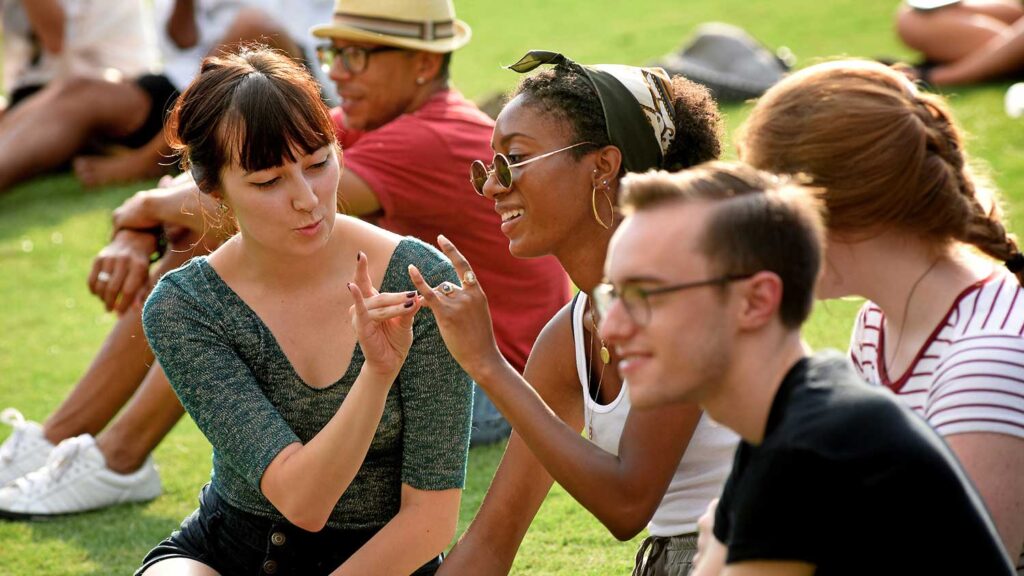 Student Clubs and Professional Organizations
The CNR Ambassadors are a motivated, student-led organization that serves as a liaison between the College of Natural Resources and prospective students, parents, distinguished guests, alumni and the university. The program creates a strong sense of community within the college. Ambassadors organize and participate in events throughout the university, such as Shack-a-thon and Open House. Advisor: Tremaine Brittian
The CNR Council serves as the unified voice of all students in the College of Natural Resources. The group is composed of representatives from all recognized student organizations in the college. The Council meets monthly to discuss current issues, problems, achievements and concerns, as well as to develop ideas for better serving students. It is responsible for allocating funds each year to CNR organizations to provide support for various activities. Advisor: Yvonne Lee
The CNR Engaging Leaders Program emphasizes hands-on learning, real-world applications, and relationship building with faculty, staff, students and community leaders. The program is open to freshman, off-campus transfer and on-campus transfer students.
The PGM Ambassadors organization includes all first-year students studying PGA golf management. Students attend weekly meetings during their first fall semester as part of their internship preparation. They also volunteer during prospective student visitation days and other recruitment activities, gaining valuable leadership experience.
Women in PGA Golf Management is dedicated to promoting the application, participation and awareness of women in the golf industry. Launched in 2009, the organization has hosted an annual conference, "Let's Hear It For the Girls," which includes educational sessions and social and golf outings for women majoring in PGA Golf Management.
The PGM Student Organization includes all students enrolled in the PGA Golf Management program. The organization is managed by a student board of directors and consists of multiple committees. Board members schedule professional growth and development meetings several times per semester and invite PGA professionals to speak to the student body about current issues within the golf industry. Board members also assist with the coordination of the annual PGA Golf Management Career Fair and visitation days.
Rho Phi Lambda is the national honor society for parks, recreation and tourism management and strives to provide opportunities for the personal and professional enrichment of its members. The Alpha Chapter at NC State was founded in 1959. It is open to any sophomore student in the Department of Parks, Recreation and Tourism Management who has an overall GPA of 3.0 and a 3.2 GPA in the degree program and has passed nine hours of degree-related courses. Active members often receive financial support to attend professional conferences and meetings.
The National Parks Club aims to create a fun, welcoming environment for people of all backgrounds to bond over a common interest. This group aims to raise awareness of the importance of national, state and local public lands and advocates for their conservation through volunteering, discussion, hands-on experiences and recreation. By educating members about career paths within environmental action and parks, recreation and tourism management, the club builds advocacy skills, network and guide members interests. Advisor:Yu-Fai Leung
The Tourism Management Association was created to provide a network for students who plan to enter the tourism industry as professional managers and want to explore the impact tourism has on all global industry. Members share a common goal of helping each other understand the professions of event services, accommodations, food service, leisure planning, destination management and hospitality. They also promote the tourism industry in the community and engage in corporate partnerships and philanthropy. Advisor: Whitney Knollenberg
The Sport Management Club aims to provide students a chance to gain experience and knowledge about the sport industry through speakers, meetings, volunteer and internship opportunities and hands-on learning experiences. Advisor: Ed Lindsay
The Pinetum chronicles life at the college each year. This student yearbook, specific to the College of Natural Resources, highlights student organizations, activities and events. Advisor: Andrew Moore
The Sustainability Stewards or NC State Stewards are a group of students supported by the University Sustainability Office. These student leaders help educate the larger NC State community about social, economic and environmental responsibility, inspire behavior change through peer-to-peer interaction, help the university try to achieve carbon neutrality by 2050, and facilitate the leadership and professional development through workshops, presentations and campus events.
The Environmental Education Club exposes K-8 students to environmental science in an interactive and accessible way to foster interest and inspire environmental protection in the future. Members create lesson plans, teach students and participate in various outreach events. The club is both a service and professional organization that helps students earn their Environmental Educator's Certification. Advisor: Renee Strnad
Minorities in Agriculture, Natural Resources and Related Sciences was chartered in 1998 and is jointly sponsored by the College of Natural Resources and the College of Agriculture and Life Sciences. This group provides students with professional, community and personal development opportunities and promotes inclusion, achievement and advancement of all people in the agricultural sciences.
The WolfPack Environmental Student Association promotes campus environmental awareness and environmental protection.
Campus-wide Opportunities
For more information about other extracurricular aspects of student life at NC State, check out the Student Organization Resource Center, which lists information on more than 300 student organizations. State and national organizations associated with specific environmental interest areas can also provide additional academic, career and social opportunities during your time at NC State.