Alumni Spotlight: Ellie Whittington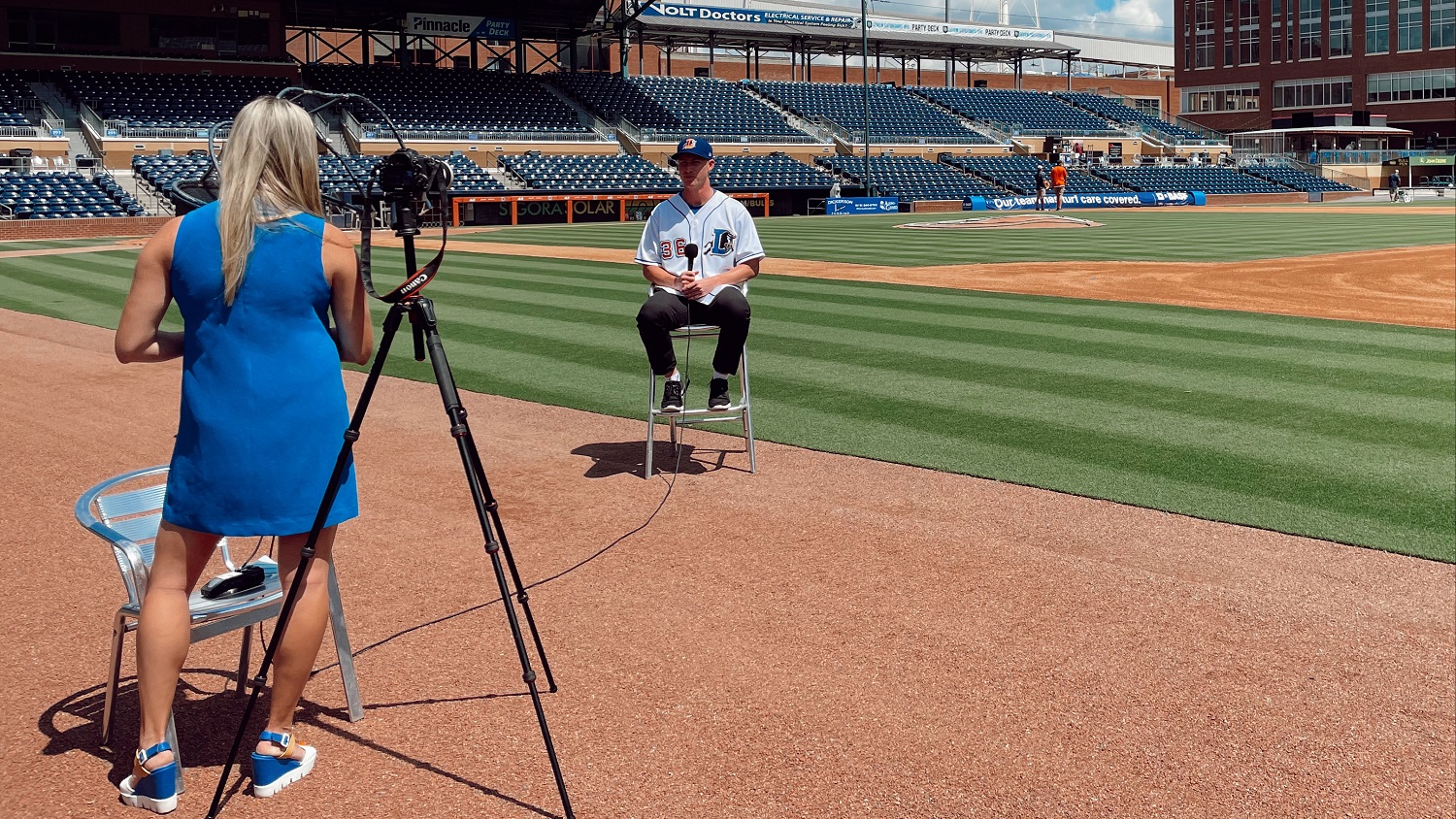 From the North Carolina Foothills to the Toyko Olympics
Born and reared in the small town of Wilkesboro, Whittington grew up watching a lot of sports with her parents. She vividly remembers her mom letting her stay up late on school nights to watch the end of college basketball games and she spent a lot of Sundays watching football, baseball and NASCAR with her dad.
"My parents happily answered all of my questions when I had to know things like 'what a flag on the play meant,' said Whittington. "I credit both of them for encouraging my fandom. Once I got more into sports than being a casual fan, my mom and dad took me around the country to professional sporting events. I have now been to over 2/3 of MLB stadiums."
Sport Sampling and the Great Outdoors
Whittington believes the biggest contributing factor to her love of sports came from being an athlete. "In academia we call it "sport sampling" and I did a lot of it!," she explained. "I participated in soccer, basketball, track, dance, gymnastics and cheerleading."
Growing up in Western North Carolina also provided the opportunity to learn outdoor activities. Whittington grew up hiking, kayaking, water-skiing and snow-skiing. Later on in graduate school, she learned to play golf with NC State PGM students.
Combining a Passion for Sports with Telling a Story
"Sports journalism is a topic that often brings people together, or one that brings controversy within friendly rivalry," says Whittington. "I knew in high school that I wanted to pursue a degree in journalism and my mom was kind enough to go with me on tours of the best journalism schools on the east coast."
Whittington earned a Bachelor of Arts in journalism from Elon University in 2018. While at Elon, she worked on a variety of social media platforms and completed several internships including one with Major League Baseball. She also met Troy Carlton, an adjunct instructor who had completed his master's with Dr. Michael Kanters at NC State's Department of Parks, Recreation & Tourism Management.
Encouraged to continue her education at NC State, Whittington was granted an assistantship with Dr. Kanters doing research on the Elements Influencing Parents' Decision Making in Allowing Children to Play or Discontinue Organized Sports. Whittington also took advantage of the interinstitutional study program and took several courses at UNC-CH to expand her network in the sports industry. This allowed her to see how athletic programs were run differently at ACC schools.
Graduating in a Pandemic
Whittington was scheduled to graduate from NC State in May 2020 when the pandemic hit in the spring. She was unable to complete her research for her thesis due to working remotely.
"I was used to walking down the hall to ask a colleague a question or a professor for help. I completed my coursework in December 2019 so for months all that was left was my thesis," says Whittington. "It was challenging to run statistical analysis with help from my thesis committee via Zoom.
I was also searching for a job in sports during a time when the sports world was completely shut down. It was a hard year with many obstacles beyond academia and the job search. I am thankful for the support I had to accomplish both finishing my degree and entering back into the sports world."
Whittington defended her thesis in January 2021 and got a job offer as a social media strategist with the Durham Bulls, one of the most iconic teams in minor league baseball. However, the path to the Bull City wasn't easy. Whittington had previously applied to NBC Sports to cover the 2020 Olympics on social media prior to graduation. She got the job, only to lose it, when the Olympics were postponed for a year because of the Covid-19 pandemic.
"It was devastating, and honestly, I had some of the lowest lows," says Whittington. "I lived with friends. I actually lived out of my car for a week and my parents said, 'Would you please just take a job? You have to do something outside of sports. I wanted to hold out for a job in the industry.'"
Creating Content from 6,800 Miles Away
A year later, the Olympics were rescheduled and NBC sports offered Whittington the opportunity to cover the Olympics remotely.
"So, I offered to NBC, can I work in Durham and still work for the Bulls and cover the Olympics? And they said yes," said Whittington.
Every night from 9 p.m. to 7 a.m., Whittington was on her laptop at home, following the games in real time, posting on TikTok, Twitter, Instagram, Facebook. Some weeks, she worked more than 105 hours, but she knew the opportunity was temporary and was grateful to have it.
"The entire Olympic experience was memorable. No one knew what to expect after the Games were postponed a year and executed without fans," said Whittington. "From a journalist perspective, there were many great stories that came out of these games and I am grateful I was able to tell them through social media."
Whittington believes social media has created a way for two-way communication from the news source to the consumer versus traditional media where the consumer wasn't able to easily respond.
"As we watch live sports together, like the Olympics, social media allows fans to respond with their thoughts, feelings and excitement for the moment in real time," explains Whittington. "I love this style of communication because it allows me to have real-time interaction with fans in a way that has only been done in the last decade."
Representing Women in the Sports Industry
Less than 15% of sports editors and reporters are women.
"The dynamic is changing but we have a way to go," says Whittington. "I still feel like my appearance, knowledge and professionalism are viewed differently because of my gender. It is one thing to increase women in sports and another to treat us like we belong. I could write a book to answer this question! In short, I am thankful to the women before me who have paved a way in the sports industry.
Whittington recommends Lady in the Locker Room: Uncovering the Oakland Athletics by Susan Fornoff for any female wanting to work in sports regardless of the role.
Fitness: A Hobby for Life
Like many who study sports and recreation, Whittington is a huge proponent of physical activity. She exercises daily and enjoys learning new ways to be physically active. Some of her favorite adventures include scuba diving in the Great Barrier Reef, embarking on an African Safari and repelling off a castle in Wales.
Closer to home, Whittington became a spin instructor while a graduate student at NC State and being a group fitness instructor became her "hobby job."
"I was taking fitness classes at the Alexander YMCA on Hillsborough Street when I decided 'I could teach this!,' says Whittington. "Teaching spin classes has given me a community of friends and a network of people in the Triangle."
Clear Eyes, Full Hearts, Can't Lose
An avid fan of Friday Night Lights, Whittington has her own advice for students in Sports Management. In addition to recommending Fornoff's book for any female interested in any aspect of sport, Whittington also suggests:
1) Know you will work nights, weekends and holidays
2) Put in the work (often for free)
3) Learn to golf!
"Combining a desire be a journalist with my passion for sports led me to an industry that brings people joy," says Whittington. " I love it!"
Excerpts from this story came from WRAL-TV's Bryan Mims interview with Ellie Whittington.