PRTM Students Apply Learnings at Clayton Harvest Festival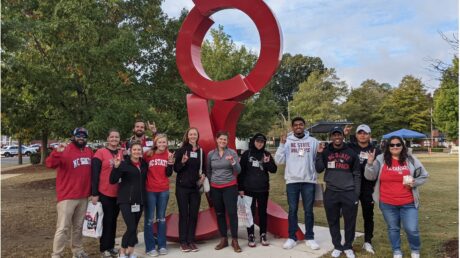 Twelve NC State students in the Department of Parks, Recreation and Tourism Management (PRTM) collected data for an economic impact study of the Clayton Harvest Festival.
Working with Ann Savage, Tourism Extension Association, Whitney Knollenberg, Associate Professor in PRTM and Rajan Parajuli, Assistant Professor in the College of Natural Resources, the students invited festival participants to complete a survey from which data will be used to show how the festival impacts the town of Clayton.
Student research assistants included: Claudia Gil Arroyo (PRTM PhD student), Courtney Hotchkiss (PRTM PhD student), Sarah Bunn (PRTSM Master's student), Allan Lusk (PRTSM Master's student), Claire Daniels (GSA Master's student), Joshua Wright (Psychology major), Ashton English (PRT major), Sofia Lappas (PRT major), Nicole Palmer (PRT major), Sheldon China (SM major), Jame Orozco-Lopez (SM major) and Austin Cross (PRT major). Additionally, Lauren Petro, PRT major, is completing her internship with Clayton Chamber of Commerce, who hosted the Harvest Festival.
"Considering the fact that this was the first festival after Covid, we think the festival had an amazing turnout," said Petro, a senior studying tourism and hospitality management. "The festival was completely outdoors. This fact along with the dropping Covid numbers helped the organizers feel confident that it would be safe for attendees and volunteers."
PRTM Internships in Tourism and Hospitality
As part of a professional internship with CCOC, Petro is helping the town plan and execute events that go on in Clayton. Her work included helping organize this year's Harvest Festival. "I really enjoyed watching the process of hosting a large event unfold as I worked throughout the day," said Petro. "I got to see the vendors trickle in and begin setting up. This process was staggered and took some time with there being nearly 300 vendors onsite. I think the load-in process went very smoothly, and the set up schedule was right on time with the start of the Festival at 10:00 AM."
Noting schedules and logistics is part of how festival planners use data to plan and manage a variety of events. They also rely on surveys from attendees to develop evaluation criteria, collect data, synthesize and analyze findings and communicate results.
"There are so many things from our PRT classes that I have seen in action at this internship, and it is really neat to experience," said Petro. "I've learned so much from my classes especially PRT 380."
Applying Classroom Knowledge to Local Economies
PRT 380: Evidence-Based Decision Making in Recreation, Sport, Tourism and Events demonstrates the value of evidence-based decision making within parks, recreation, tourism, event, golf, and sport services. The class provides an introduction to and application of the processes required for evaluating these services including: development of evaluation criteria, data collection, analysis, synthesis of findings and communication of results.
During a typical year, the Clayton Harvest Festival draws about 30,000 people to Downtown Clayton on the Saturday of the event, and this year there was an estimated 25,000 people present. Given the fact that the festival provides more than half of the CCOC's annual income each year, data from attendees helps organizers design and promote establishments and activities that will continue to stimulate and grow the local economy.
Petro along with students working on a project for Tourism Extension with professors Knollenberg and Parajuli will apply learnings from their course in data collection methods used during the festival.