Alumni Spotlight: Lee Brimmage, Jr.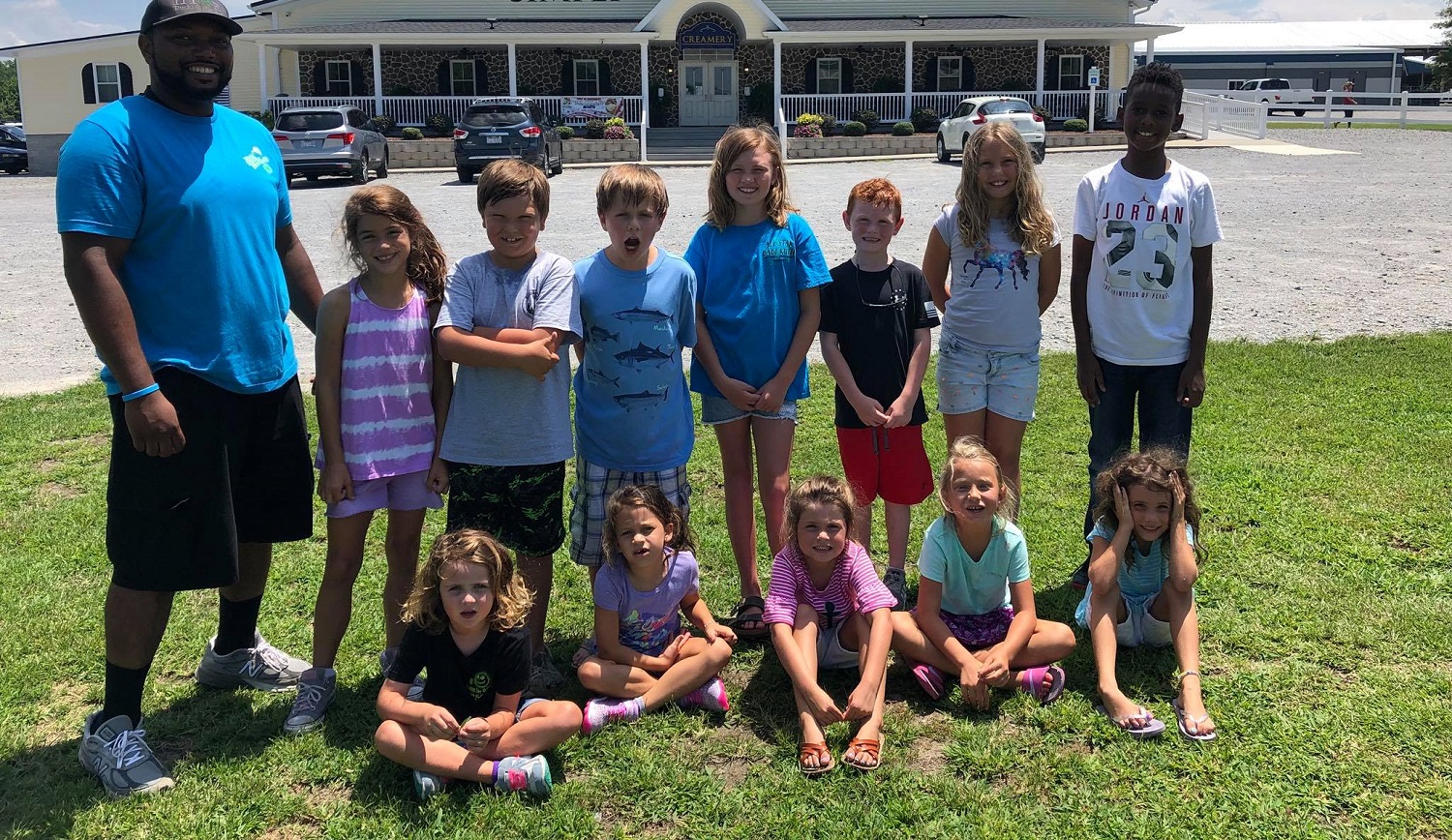 Lee Brimmage graduated this spring with a master's degree in Parks, Recreation, Tourism, and Sport Management and a master's certificate in Sport and Entertainment Venue Management. Lee earned a bachelor's degree in Information and Computer Technology from East Carolina University along with a minor in Business Administration. After working in IT, marketing and business management, he chose to enroll in NC State's online Master of Parks, Recreation, Tourism and Sport Management (MPRTSM) program while working as a 4-H Extension Agent specializing in Youth Development for North Carolina Cooperative Extension located at the Hyde County Center in Swan Quarter, NC. He is also a member of the honor society of the Phi Kappa Phi chapter at NC State. We recently caught up with Lee to learn more about his job and what inspired him to study parks, recreation and tourism management.
What inspired you to study your major?
After tons of research of other Master's programs, I found that the PRTM program at NC State perfectly aligned with my passion and career aspirations. I have always been heavily involved and interested in sports, recreation, and volunteering on various levels. This program offered a wide variety of courses that focused on these areas, while also introducing subjects that sparked my interest, such as GIS and Spatial Analysis. One of my greatest inspirations was to gain the skills necessary to assist my community with the new construction of an athletic complex that was initiated by a great friend and mentor who has since passed away. The PRTM program was undoubtedly the best decision to help make this dream come to fruition.
How did the PRTM department prepare you for your current position?
Everyone in the PRTM department is absolutely incredible! This program is very supportive of individuals that are balancing a full-time workload and pursuing an education. The department equipped me with the necessary skills, confidence, and resources that I was lacking helping me reach my potential and explore other possibilities within my current organization. Since completing the program, I feel much more prepared and focused as a career professional. Mostly, I want to sincerely thank all of my professors and everyone in the PRTM department for their support in this program and making it one of the best decisions I have ever made.
What were some of your favorite instructor and classes in PRTM?
I learned so much from each of my professors, teaching assistants, and administration during my time in the PRTM program. One of my favorite courses was the GIS and Spatial Analysis class. This immediately caught my attention because of my IT background and huge interest in anything concerning advanced technology. Dr. Bocarro is an exceptional professor! His enthusiasm for not only teaching, but learning and being engaged with his students is contagious. I walked away from every class meeting having learned something new or being challenged to critically think or gain a deeper understanding about something.
What is a typical day at your job like?
A typical day as a 4-H Extension Agent is incredibly exciting. Besides the usual duties that come with most jobs, i.e. emails and phone calls, I am fortunate to be able to carry out my vision for our 4-H program through rigorous planning and implementation. We have a broad spectrum of programs to offer our youth across the state of NC, so there's always a new curriculum to explore and activities to implement locally. In my position, one must get well acquainted with adapting to change and tapping into their creativity. My main objective is to figure out ways to better serve my community and have a positive impact on their lives.
What types of 4-H activities are you working on this spring?
Hyde County 4-H is working on offering a hybrid 10-week Summer Fun program that incorporates in-person and virtual activities for youth ages 5-18 years old. Our program will focus on Agriculture, S.T.E.M., Health & Wellness, Personal Development, Culinary Arts, and so much more. A few of the highlights this year will be our brand-new offering of a K9 Camp and Outdoor Grilling Challenge.
How did you get involved with 4-H?
I got involved with 4-H at a very young age when I was first introduced to the local Livestock Program in my home county. I began showing lambs at my first few shows, then moved on to show hogs until I graduated from high school. I was also involved in a local 4-H Summer program called "Nature Week" that focused on wildlife education, environmental conservation, water ecology and safety, agriculture, and other interesting topics.
What impact are you making through your position?
4-H has been the vehicle for change in my community. It has helped me enhance numerous youth' lives through priceless experiences that they will never forget. Being able to address the needs of our community through a proactive approach that involves education, volunteerism, and reliable support have been phenomenal. 4-H has consistently proved to be a major asset to our community by providing incredible opportunities and filling gaps of services. Youth and parents alike, are always looking forward to our program offerings and we are proud to be able to serve our community and act as a central hub for youth development.
What do you enjoy most about your work?
I enjoy being of service to others and my community. Being able to provide experiences that creates memories that last a lifetime is simply priceless. I am fortunate to be able to do what I love and have a true impact in the community that I've called home for my entire life. There's a lot to say about living and working in rural Eastern North Carolina – it's special.
What advice do you have for current students in PRTM?
I encourage current students to always ask questions and stay engaged in the program by communicating with professors, their classmates, and other professional contacts. Take advantage of the wealth of knowledge that is within the PRTM department and grow your personal and professional network. Be curious to learn, challenge your thinking, and whatever you learn – pay it forward.