American Indian Heritage Celebration at North Carolina Museum of History
"Indigenous people are still here!" This was the theme for the 2022 American Indian Heritage Celebration held at the North Carolina Museum of History on Saturday, November 19th.
Kicking off with a blessing of the arena and grounds, Becky Goins Mintz of the Lumbee Tribe introduced performers and led the roll call of state-recognized tribes and organizations including: Coharie Tribe, Eastern Band of Cherokee Indians, Haliwa-Saponi Indian Tribe, Lumbee Tribe of North Carolina, Meherrin Indian Tribe, Occaneechi Band of the Sapani Nation, Sappony, Waccamaw Siouan Tribe, Cumberland County Association for Indian People, Guilford Native American Association, Metrolina Native American Association and the Triangle Native American Society.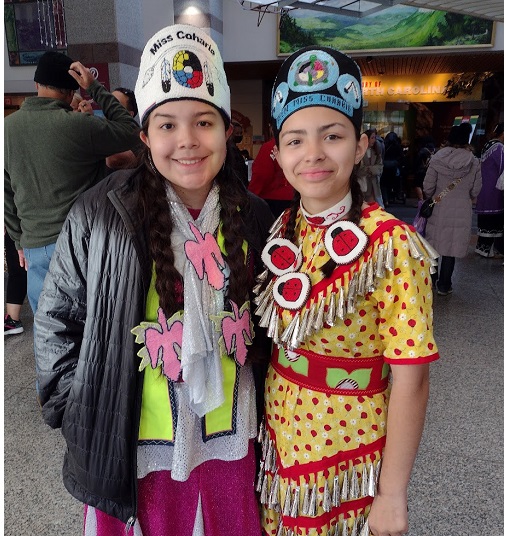 Outdoor performances included drum songs and intertribal Powwow dances. Inside the museum, attendees could learn about dugout canoe burning, shell carving, beadwork, petroglyphs, pelts and more. Inside the museum, attendees could visit exhibits, listen to stories, learn more about tribal histories as well as food and health.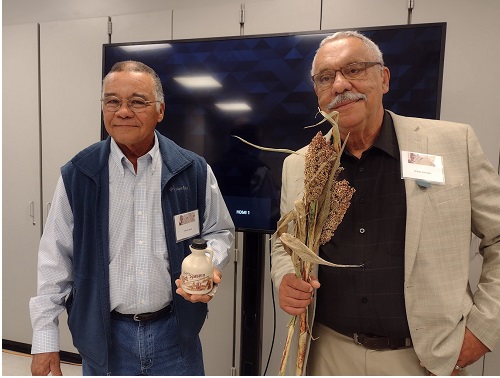 Greg Jacobs and Philip Bell from the Coharie Tribe, led a session on making sorghum syrup, one of the agricultural traditions being revived by the Coharie Tribe's community garden in Sampson county. Jacobs is the tribal administrator and Bell coordinates the Great Coharie River Initiative, a program created in 2015 to bring life back to the Great Coharie River by removing fallen trees, beaver dams and other debri. Associate professor Duarte Morais has worked with Bell to offer kayak trips on the Great Coharie River through People-First Tourism.
Sorghum syrup was available for purchase and along with many traditional foods from NC tribes including collard wraps with chow chow relish. "The Collard Sandwich," considered a Lumbee Indian dish," is traditionally prepared with cornbread and collards and the ingredients tell a story. The Southern Foodways Alliance now issues "collard sandwich alerts" when a Lumbee gathering is on the horizon.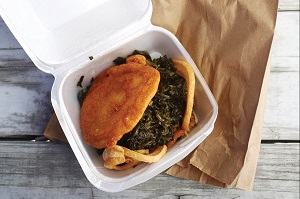 The annual festival also held auditions for Native roles in the upcoming season of The Lost Colony, the longest running outdoor symphonic drama that draws crowds to Manteo, North Carolina every season. The play was written in 1937 by Paul Green, a Pulitzer Prize-winning North Carolina playwright and fantasizes about what might have happened to the English mean, women and children that came ashore on Roanoke Island in 1587. The long-running show is a major source of pride and tradition on the Outer Banks, where as many as 90,000 tourists come to see it each summer. But even as late as 2019, white people played the Native characters, with their skin spray-painted copper—a practice known as "bronzing," or "redfacing."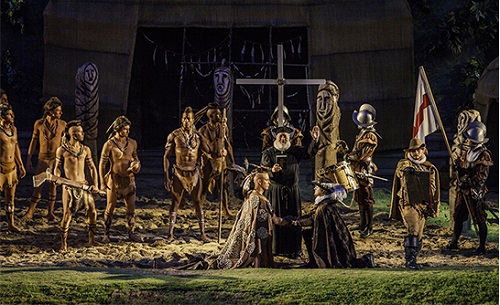 For the first time in the play's history, the story is being told differently and through the eyes of Native American ancestors.
"Non-natives were playing historically Native roles," said Kaya Littleturtle, cultural advisor to the Lost Colony. "There was not the appropriate use of Coastal Algonquin language. A lot of it was adlibbed. And there were not historically accurate dances, and songs that were being performed."
More than a decade ago, Littleturtle acted in the Lost Colony. At the time he was the only Native American portraying a Native in the play. Now he's working with the production and casting others from more than 11 Native tribes.
Sessions at Saturday's celebration also included presentations and talks on researching tribal histories and civil rights in NC Indian Country. For more information on American Indians in North Carolina, visit the NC Commission of Indian Affairs.