Myron Floyd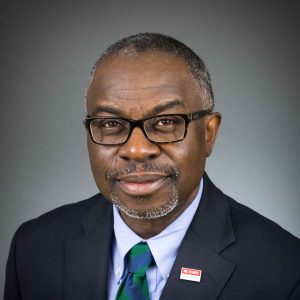 Department of Parks, Recreation and Tourism Management
Biltmore Hall (Robertson Wing) 4008C
Dr. Myron Floyd is Professor and Department Head in the Department of Parks,
Recreation and Tourism Management at North Carolina State University. Active in both
teaching and research, Dr. Floyd has taught courses in evaluation and research
methods and park management. He is widely acknowledged as a leading scholar in the
area of race/ethnicity and outdoor recreation behavior. His most recent research
examines how public parks and other built environment features contribute to physical
activity in low income communities of color. Funding for his research comes from public
and private granting agencies including the National Park Service, US Forest Service,
and the Robert Wood Johnson Foundation. His research appears in a variety of highly
regarded scientific journals including Leisure Sciences, Journal of Leisure Research,
American Journal of Preventive Medicine, Circulation, and Environment and Behavior.
Dr. Floyd serves on the Forestry Research Advisory Council which provides advice to
the U.S. Secretary of Agriculture on research priorities for the US Forest Service and
the National Institute of Food and Agriculture. He also serves on the Board of Directors
for the Rails-to-Trails Conservancy. Dr. Floyd is the 2004 recipient of the Allen V.
Sapora Research Award from the University of Illinois, the 2006 recipient of the Benton
H. Box Award for Teaching Excellence from Clemson University, and the 2008 recipient
of the National Recreation and Park Association Theodore and Franklin Roosevelt
Award for Excellence in Recreation and Park Research. He is an elected Fellow of the
Academy of Leisure Sciences.
Education
Texas A&M University, College Station,Texas.  Ph.D.
Recreation and Resources Development
Clemson University, Clemson, South Carolina.  M.S.
Parks, Recreation, and Tourism Management
Clemson University, Clemson, South Carolina.  B.S.
Recreation and Park Administration 
Current Research Interests
Contribution of parks and recreation amenities  to physical activity  in low-income communities of color
Race/ethnicity and leisure activity preferences
Environmental justice
Health benefits of urban green space
Recent Courses Taught
PRT 350  Outdoor Recreation Management
PRT 380  Analysis and Evaluation in PRTM
PRT 795 Special Topics Advanced Research Methods in PRTM (Multivariate Statistics)
PRT 795 Special Topics Seminar on Parks and Physical Activity
PRT 795 Special Topics Urban Green Space and Community Sustainability
PRT 801 Doctoral Seminar
Awards
Leadership for a Diverse Campus Workshop Series, Office of the Provost (2014)
Outstanding Alumni, Department of Parks, Recreation and Tourism Management, Clemson University (2014)
Nominated, Alumni Distinguished Graduate Professor, NC State University
University of South Australia Distinguished Professor Scholarship (2010)
Theodore and Franklin Roosevelt Award, National Recreation and Park Association (2008)
Outstanding Graduate Faculty Award, Department of Parks, Recreation and Tourism Management (NC State University), 2007
Ben H. Box Award for Excellence (awarded by Clemson University, 2006)
Fellow, The Academy of Leisure Sciences (Elected 2005)
Gamma Sigma Delta (Honor Society of Agriculture)
Allen V. Sapora Research Award (awarded by University of Illinois, 2004)
Publications
View all

publications
CV