Myron Floyd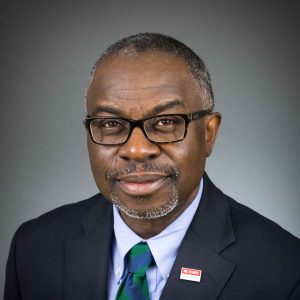 College of Natural Resources Administrators and Staff
Biltmore Hall (Robertson Wing) 2028
About Interim Dean Myron F. Floyd
Dr. Myron F. Floyd currently serves as the Interim Dean of the College of Natural Resources at NC State University. Dr. Floyd first joined the college in 2005 as a Professor in the Department of Parks, Recreation and Tourism Management. In 2010, he was appointed to serve as Director of Graduate Programs for the department, and in 2014, he became Department Head.
Dr. Floyd brings 35 years of experience in teaching, research and administration. An elected Fellow of the Academy of Leisure Sciences, Dr. Floyd is widely recognized as a leading scholar in the area of race, ethnicity and outdoor recreation behavior. His most recent research examines how public parks and other features of the built environment contribute to physical activity in low-income communities of color. Dr. Floyd's research appears in wide variety of social science and public health journals.
During his tenure as Department Head, Dr. Floyd grew the department's teaching, research and extension capacity by adding faculty expertise in new areas including land use and ecosystem services, conservation behavior, environmental education, diversity and environmental justice, crowdsourcing data for health research, geospatial analytics and worksite physical activity.
Prior to coming to NC State, Dr. Floyd served on the faculty at Clemson University, Texas A&M University (College Station), and the University of Florida.
Education
Ph.D. Recreation and Resources Development, Texas A&M University, College Station, Texas
M.S. Parks, Recreation and Tourism Management, Clemson University, Clemson, South Carolina
M.S. Recreation and Park Administration, Clemson University, Clemson, South Carolina
Research Interests
Physical activity and the built environment
Health disparities
Race/ethnicity and leisure activity preferences
Environmental justice
Health benefits of urban green space
Awards and Honors
Elected Member, American Academy for Park and Recreation Administration, 2019
Leadership for a Diverse Campus Workshop Series, NC State University Office of the Provost, 2014
Outstanding Alumni, Department of Parks, Recreation and Tourism Management, Clemson University, 2014
University of South Australia Distinguished Professor Scholarship, 2010
Theodore and Franklin Roosevelt Award, National Recreation and Park Association, 2008
Outstanding Graduate Faculty Award, Department of Parks, Recreation and Tourism Management, NC State University, 2007
Ben H. Box Award for Excellence, Clemson University, 2006
Fellow, The Academy of Leisure Sciences, Elected 2005
Allen V. Sapora Research Award, University of Illinois, 2004
Gamma Sigma Delta, Honor Society of Agriculture, 1989
Publications
View all

publications
CV