Sam Shaw: My Tesla Experience
Elon Musk once said, "I could either watch it happen or be a part of it." I decided I wanted to be a part of it and applied for the Emergency Preparedness Intern position at Tesla. A few months later, I found myself sitting at a desk in Fremont, California, 3000 miles away from home, in a room full of hardworking, intelligent individuals, aiming to create a more sustainable future and working for Elon Musk. Little did I know that during the next eight months, I would experience a period of immense growth both in my career and personally. From May 2021 to December 2021 I was given the incredible opportunity to be the Emergency Preparedness intern for Tesla working directly with the Emergency Management team and our partners within Environmental, Health, Safety, and Security. Tesla, as many may know, is accelerating the world's transition to sustainable energy through the production of electric vehicles and solar power. This internship was an opportunity for me to decide if I wanted to start a career in Emergency Management and I did discover just that.
During my time at Tesla, I took on many responsibilities. From the start, I authored weekly articles providing overviews of disaster types and preparedness, response, and recovery best practices for a companywide global audience. Similarly, I designed fifteen web pages providing an overview of tips for preparing for, staying safe during, and recovering from incidents that may impact Tesla's operations. As I gained additional responsibility, I contributed to the development and build out of the virtual emergency operations center through command post dashboard creation and information gathering for all Tesla sites across North America. Additionally, I developed and coordinated the first annual Emergency Preparedness Week at the Tesla Fremont Factory providing education and outreach opportunities to 20,000 individuals. While I participated and aided in many other projects, these were a couple of my favorites.
Everyday, I was excited to go to work as daily challenges and new introductions presented new challenges. I appreciated the interdisciplinary approach that the company takes. On every project I participated in, I found myself working with individuals from disciplines across the company. It was interesting to see how each different discipline fit within the company as a whole. Additionally, I enjoyed the inclusive feeling that myself and many other interns received from full time employees. I never felt like an intern as my opinion always mattered when making big decisions for the company. Ultimately, from my experience, the company and the people I worked directly with wanted what was best for me and my career. One challenge of working at Tesla, as I can imagine is in many big companies, is turnover in the workplace. During my short time at Tesla, a few people in our small emergency management team left the company. While it was a challenge to figure out how to move forward without our teammates, it was exciting for me to obtain new responsibilities and work on new projects.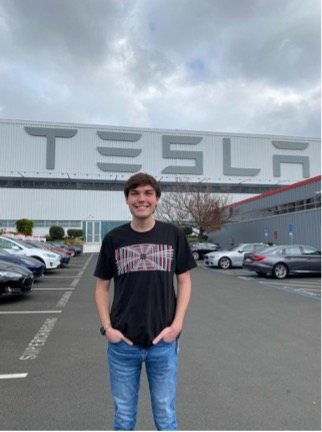 Towards the end of my internship, I received an email from a recruiter at Tesla. Months earlier, I had shared interest and started conversations with my manager about coming to Tesla as a full time employee. A week after receiving an email from the recruiter, I found myself on the phone receiving an offer for a full time position at Tesla. After graduating in May 2022 from North Carolina State University, I will be moving to Austin, Texas to begin my full time position as the Emergency Management Specialist for the Central United States region. In this new role, I will expand on the knowledge and experience I gained during my internship, engage with new disciplines within the company, meet new partners, and push Tesla to be better prepared for emergencies and disasters. I'm beyond excited to take on this new opportunity in emergency management and begin my career with Tesla.
As I reflect on my Tesla experience, I am immensely grateful. One of my most fond memories was presenting my final presentation in front of the remarkable workforce and friends that I found at Tesla. Sharing the experience that I had endured and reflecting on my most incredible moments during this time was special. Even more special was the way that these people made me feel following my presentation. Receiving words of praise, encouragement, and well wishes for my future speak volumes to who the people at Tesla are. I will forever be appreciative of these people, the knowledge they shared, and the memories they gave me.
Throughout my internship at Tesla, I received and participated in an in-depth look into emergency management through the lens of private company operations. I gained professional work experience that will aid in jump starting my career. I was able to work with a diverse group of individuals all working towards the same goal and ready to help every step of the way. Most importantly, I discovered that I want to pursue a career in emergency management and Tesla will just be the starting point for me. Throughout this period of my life, I have learned that you never know how one opportunity could change your life. I learned that I will not have all of the answers and that it is necessary to ask questions. Similarly, I learned that big projects start with small steps along with communication and teamwork. Lastly, I learned to live in the moment and enjoy the small wins – they will ultimately mean the most. Tesla and this opportunity have changed my life in many ways and I am ready for an exciting future!