Clubs and Organizations
Joining student clubs and professional organizations is a great way to get involved and pursue your passions. Browse some of the major specific student groups below and find a family of like-minded students waiting to welcome you to the group.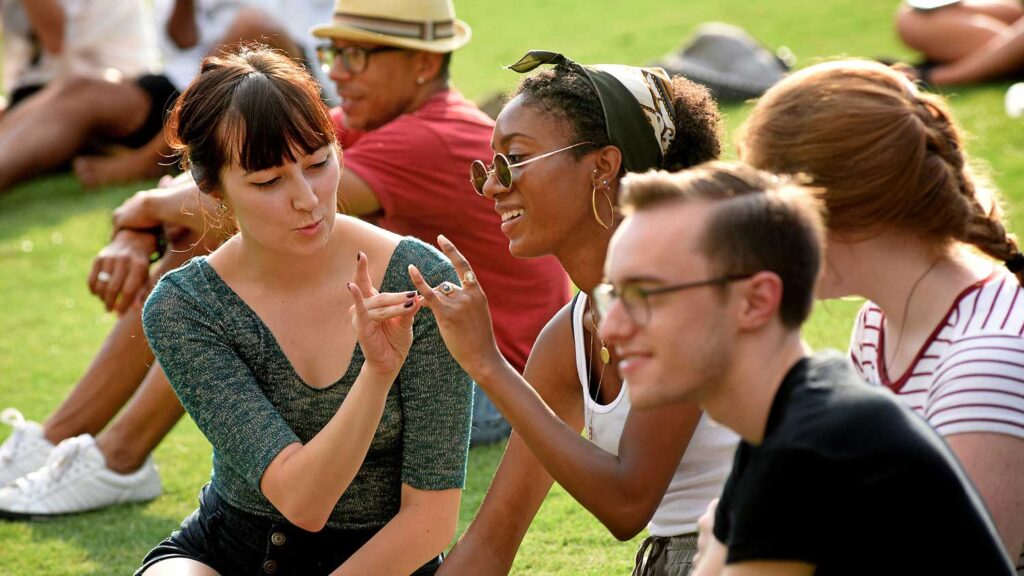 Student Clubs and Professional Organizations
The CNR Ambassadors are a motivated, student-led organization that serves as a liaison between the College of Natural Resources and prospective students, parents, distinguished guests, alumni and the university as whole. The program creates a strong sense of community within the college. Ambassadors organize and participate in events throughout the university, such as Shack-a-thon and Open House. Advisor: cnrrecruitment@ncsu.edu or 919.515-6191
The CNR Council serves as the unified voice of all students in the College of Natural Resources. The group is composed of representatives from all recognized student organizations in the college. The Council meets monthly to discuss current issues, problems, achievements and concerns, as well as to develop ideas for better serving students. It is responsible for allocating funds each year to CNR organizations to provide support for various activities. Advisor: Yvonne Lee
The Environmental Education Club exposes K-8 students to environmental science in an interactive and accessible way to foster interest and inspire environmental protection in the future. Members create lesson plans, teach students and participate in various outreach events. We are both a service and professional organization that helps students earn their Environmental Educator's Certification. Advisor: Renee Strnad
The Forestry and Environmental Resources (FER) Leadership Board creates a welcoming environment for existing students by creating events and programs to enhance and support our current students experience and provide support within the Department of Forestry and Environmental Resources and College of Natural Resources. Advisor: Erin Champion.
The Forestry Club competes in at least three timbersports competitions each year against other colleges across the southeast. Timbersports involve events such as underhand chop, sawing, chainsaw, axe throw, knife throw, pole climb and archery, as well as technical events such as plant and wildlife identification, air photo interpretation and timber estimation. Faculty Advisor: Joe Roise
The Leopold Wildlife Club is the NC State student arm of The Wildlife Society, a national professional organization. This club provides opportunities for professional development, networking and social events for students looking for careers in wildlife fields. Meetings are held twice a month and generally feature a professional speaker, such as wildlife biologists, rehabilitators, wildlife veterinarians and more. We strive to have at least one field outing or workshop every month and attend the National Conference each year. Advisors: Chris Moorman and Lara Pacifici.
Minorities in Agriculture, Natural Resources and Related Sciences (MANRRS) was chartered in 1998 and is jointly sponsored by the College of Natural Resources and the College of Agriculture and Life Sciences. This group provides students with professional, community and personal development opportunities and promotes inclusion, achievement and advancement of all people in the agricultural sciences. Check out the NC State organization page.
The Pinetum chronicles life at the college each year. This student yearbook, specific to the College of Natural Resources, highlights student organizations, activities and events. Advisor: Sarah Corica
The student chapter of the Society of American Foresters (SAF) brings together industry professionals and students to share new research and highlights, as well as brainstorm and improve the nation's forests through managements. As the future foresters of our country, our students chapter seeks to improve our understanding of the profession, while having fun and building connections. Our annual events include a Wilderness Expedition and trip to the SAF National Convention, APSAF Meeting, Arbor Day and Stream Clean-up. Advisor: Leah Rathbun.
The Student Association for Fire Ecology (SAFE) is a university chapter of the Association for Fire Ecology, an international organization dedicated to improving the knowledge and use of fire in land management and helping to shape the emerging profession and growing field of fire ecology. The NCSU chapter activities are focused on the continued student education and professional advancement in wildland fire ecology. We work with our fire partners in the North Carolina Forest Service, North Carolina Parks and Recreation, and The Nature Conservancy to conduct collaborative training and participate in prescribed fire crews on NCSU Experimental Forests and partner lands. Learn more on Facebook Advisor: Bob Mickler.
The Student Fisheries Society is a student-specific chapter of the North Carolina Chapter of the American Fisheries Society. We encourage the exchange of fisheries and aquatic science information among students, faculty and regional professionals and provide career guidance to students. Faculty Advisor: Thomas Kwak
The Environmental Student Association promotes campus environmental awareness and environmental protection.
Xi Sigma Pi is the only national scholastic honor society that recognizes achievements in forestry and environmental resources education. The society was founded at the University of Washington in 1908. The Mu Chapter at NC State was added in 1940 as the first chapter in the Southern region of the U.S. Membership is by invitation only. Advisor: Rachel Cook
Campus-wide Opportunities
For more information about other extracurricular aspects of student life at NC State, check out the Student Organization Resource Center, which lists information on more than 300 other student organizations. State and national organizations associated with specific environmental interest areas can also provide additional academic, career and social opportunities during your time at NC State.