Study Abroad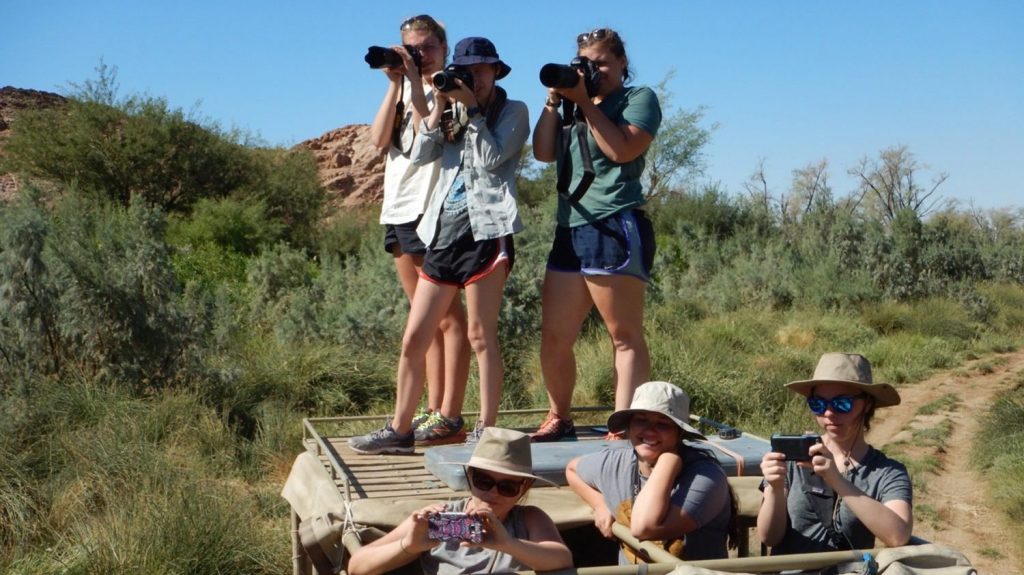 Expanding the Borders of your Education
As part of the college experience in Forestry and Environmental Resources, many students pursue study, intern or work abroad opportunities that put them on the frontline of worldwide sustainable and environmental resources management. Between the opportunities offered within the department and those offered by other areas at NC State, students can choose from a variety of programs that fit different interest, scheduling and budget needs, including Spring Break, summer, semester or year-long programs.
Learn more about short term and semester programs offered through the Study Abroad Office here.
The department leads a variety of trips, including one-time and recurring opportunities, including:
The Tropical Wildlife Ecology (FW 405; 3 credits) course addresses the challenges of natural resource conservation in a Latin American country and the sustainable approaches that may be used to conserve wildlife and other natural resources there. During an 11-day trip to Ecuador, students will tour natural areas, discuss conservation strategies, and employ various wildlife sampling techniques, including use of mist nets to monitor tropical birds and use of live traps and camera traps to monitor for a variety of mammals. Additionally, students will explore the natural history of the high Andes and vast rainforests of the Amazon basin while learning about local cultures and the importance of nature-based tourism. A fee, which covers the cost of the trip to Ecuador, is required to participate in the course. A combination of pre-trip discussions and presentations, field activities and experiences in Ecuador, and post-trip reports form an integral part of the course. Deadline October 15. Learn more
The annual Bahamas Conservation Biology (FW 445) trip explores the biodiversity of the Andros, the largest island of the Bahamas, while learning the science and policy of conservation biology through hands-on research projects. Participants learn to apply tropical field methods in ecology, evolution and conservation biology, as well as interacting with local scientists on the island, which is home to spectacular and remote Caribbean ecosystems. More info: http://gambusia.zo.ncsu.edu/bahamas.html
The annual Natural Resources International Sustainable Resource Use (NR 350) course involves students from NC State, Purdue University and the Swedish Agricultural University (SLU). Students work in teams to examine varied topics within the broad scope of natural resources sustainability. After the first organizing week with lectures and local field trips, the class departs from Prague to travel. Along the way, the class visits examples of resource management where professional managers, policy makers, and practitioners provide insights to the past, present and future issues involved in commodity production, conservation, and protection of natural resources. This four-week course involves a rigorous 3-week excursion including alpine hiking, full days in the field, and almost daily site visits with natural resources practitioners and faculty. More info.
The annual Namibia African Ecology and Conservation (FW465/565) trip takes participants to African savanna landscapes with herds of antelope, elephants, and lions. This program is designed for students to experience and study a unique natural world while elevating their understanding of ecology, wildlife management, park management and conservation. Learn more.
Think studying abroad is right for you? Visit the NC State Study Abroad website to explore opportunities and complete an application.

Before you travel, be sure to visit the NC State Travel Clinic for comprehensive and personalized recommendations, medications and vaccinations for your trip. To renew or apply for a passport, visit NC State's Office of Engagement Passport Services. Questions about the application process? Email Danielle Costantini or Dr. Erin Sills.
Funding Study Abroad Opportunities
Our department has a strong tradition of helping fund students' participation in Study Abroad opportunities, including semester-long, summer and spring break programs. The College of Natural Resources and our department offer travel grants ranging from $500-1,500 to students participating in study abroad. To be eligible for funding for study abroad, students must apply to a program through the Study Abroad Office. Visit this page to view upcoming application deadlines.
Other Student Abroad Support includes:
The College of Natural Resources Student Assistance and Enrichment Fund is open to all undergraduate students enrolled in a College of Natural Resources major. The fund supports extra or co-curricular enrichment experiences like study abroad, high-impact internships and academic research, through scholarships and stipends.
The Benjamin A. Gilman International Scholarship Program provides scholarships to U.S. undergraduates with financial need for study abroad, including students from diverse backgrounds and students traveling to non-traditional study abroad destinations. Established under the International Academic Opportunity Act of 2000, Gilman Scholarships provide up to $5,000 for American students to pursue overseas study for college credit.
Boren Scholarships support U.S. undergraduate students who are interested in national security and want to study abroad in countries outside of Western Europe, Canada, Australia and New Zealand for more than one semester.