From Peruvian Pisco to Mayberry Moonshine: Researching the Growth of Craft Spirits
Claudia Gil Arroyo recently defended her PhD dissertation: The Contributions of Craft Beverage Tourism to Sustainable Development and Destination Image Formation. A doctoral student in the department of parks, recreation and tourism management, Gil Arroyo has been researching agritourism and the potential for craft beverages to attract new markets to a destination.
Pivoting in a pandemic
In 2020, she was scheduled to travel to the southern coast of Peru to collect data from festivals and local stakeholders in "pisco-tourism." Pisco is a type of brandy made by distilling fermented grape juice into a spirit with a high percentage of alcohol. Many tourists travel to Peru to experience the beauty of the land, the variety of flavorful food and the citrus cocktail called Pisco Sour.
The global pandemic brought Gil Arroyo's hard-wrought plans and preparations to a screeching halt.
"Claudia is a truly resilient scholar," said Carla Barbieri, professor and extension specialist in NC State's Department of Parks, Recreation and Tourism Management (PRTM). "When COVID hit, she had everything ready (literature reviewed, research protocols completed, local support) to collect data from festivals goers and other stakeholders related to pisco-tourism in Peru. She shifted her investigation to moonshine-tourism in North Carolina and did an awesome job in undertaking such a task and staying within her timeline."
Gil Arroyo met Barbieri while pursuing her master's degree in Parks, Recreation and Tourism at the University of Missouri. They had collaborated on a research project in Peru and Barbieri recommended Gil Arroyo consider NC State where Whitney Knollenberg, assistant professor in PRTM, was conducting research on agitourism.
A taste for travel began at early age
Born in Lima, Peru, Gil Arroyo loved growing up near the ocean and traveling with her family during the holidays. She vividly recalls how her dad loved stopping along the way to buy produce from farmers and eat local treats.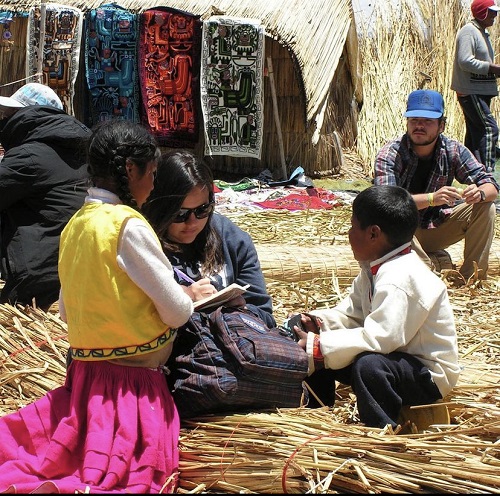 "I think that's when I started to love travel," said Gil Arroyo, "and I developed an appreciation for the products that are created in specific places."
"I have a soft spot for food tourism," said Gil Arroyo, "so the idea of focusing on craft beverages and the way it related to my other interests and research experience seemed like a really good fit for me."
When thinking about her Phd dissertation, Gil Arroyo instinctively thought of Peru as many tourists travel there to experience the beauty of the land, the variety of flavorful food and Pisco brandy.
"The pandemic forced me to change one of my research projects," said Gil Arroyo, "as it was simply not feasible to travel to Peru. This meant I could not complete my PhD in three years as I'd hoped and I had to change my focus to allow me to conduct research within North Carolina."
From Pisco Sours in Peru to Mayberry Spirits in Mount Airy
As it turns out, North Carolina is also a growing destination for tourists seeking authentic and unique travel experiences. Craft breweries and distilleries in the state are growing in quantity, popularity and in large part to House Bill 890, a bill recently passed by Gov. Roy Cooper to level the playing field for distillers, making rules more consistent with those governing breweries and wineries.
Gil Arroyo visited Copper Barrel Distillery in Wilkesboro, home of several annual events including MerleFest, Carolina in the Fall and Brushy Mountain Peach & Heritage festival. George Smith owns Copper Barrel Distillery and credits the passing of H.B. 890 as part of the growing number of visitors to NC breweries and distilleries.
"We can now attract many more visitors seeking to learn about our state's craft spirits culture — especially on Sundays in our rural community," explained Smith. "Furthermore, this is a game-changer that could potentially double our weekend revenue."
Tourists are heading to North Carolina in record numbers to travel throughout all parts of the state and taste local beers and spirits.
Promoting the history of place along with local tastes
According to Gil Arroyo's research, many craft beverage destinations in the United States are all about their beers, but not all products have a rich heritage component.
"Places like Kentucky have made great names for themselves, most notably with whiskey," explains Gil Arroyo, "but North Carolina is special because it has so many different beverages and so many different tastes to try. It's a rich experience to taste them all and learn how they are made and where they come from.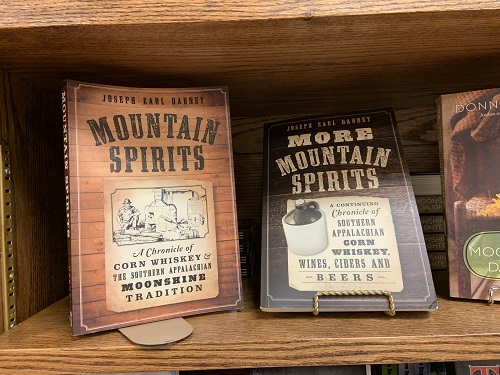 "Moonshine was certainly a peculiar drink to me, from the bad rep it had back in the day," said Gil Arroyo. "As I started to talk to people in the moonshine industry, I learned so much about NC's development, history and heritage."
Due to the illegal nature of the trade, moonshine was created during the night to avoid anyone detecting smoke rising from the stills where the distillers operated. Thus, the name "moonshine" came into being. Many people have no idea that moonshine runners are the origin of NASCAR.
Connecting Lead Feet and Boot Leggers
It's not a tall tale. Turns out bootlegging moonshine was a trait for Junior Johnson, a native of Wilkesboro who always had a fascination with automobiles and a unique and natural talent for handling vehicles at high speed. He was also immersed in the business and lifestyle of making moonshine as early as 4-years old when federal agents raided his family home and removed hundreds of gallons of illegal moonshine in 1935.
"We sometimes take for granted how much of our culture can be shared through food and drinks and moonshine is a great example of that," says Gil Arroyo. "Studying the relationship between local identity and culture is not only fascinating, but the findings can be an appealing part of a travel destination."
Gil Arroyo learned that Junior Johnson is credited with inventing the "Bootleg Turn," an adrenaline-inducing move in which the driver would slam on his breaks, turn the car 180 degrees and put the pedal to the metal in the opposite direction. As time went by, the term "bootlegger" came to mean a person who makes, distributes or sells goods illegally.
"Changing my research focus to the craft beverage industry in North Carolina has been really interesting," said Gil Arroyo. "I learned so much visiting distilleries in the state. North Carolina has a real opportunity to set itself apart and become a well-known craft beverage destination based on moonshine."
Think and Do: Practical applications from research
Gil Arroyo's research provides an assessment tool for the incorporation of new tourism segments or other economic activities beyond tourism, a guiding tool for destination image development and tools for identifying and addressing barriers to product and destination image development. These resources can be used to understand people's beliefs, ideas and impressions about a destination and how to communicate the attributes that distinguish places and products from competing ones.
Gil Arroyo was awarded "People's Choice" in the TTRA Annual Conference 3-Minute Thesis competition where she presented "The Role of Context in Destination Image Formation: Craft beverage tourism in Ica, Peru," and Gil received high praise from colleagues.
"There were 18 entries from graduate students around the globe. Over 50 attendees in the virtual session voted for their favorite presentation and Claudia's came out on top," said Knollenberg. We are all extremely proud of the hard work Claudia has put in to earn this achievement."
Gil Arroyo, Carla Barbieri and Whitney Knollenberg recently gave a presentation on culinary and farm-based tourism at the 2022 National Environment and Recreation Research (NERR) Symposium entitled: Will They Come for the Pisco? Craft Beverage Tourism's Influence in Destination Image. Gil Arroyo received a 2022 NERR scholarship.