Schenck Forest Cultivates Students of Nature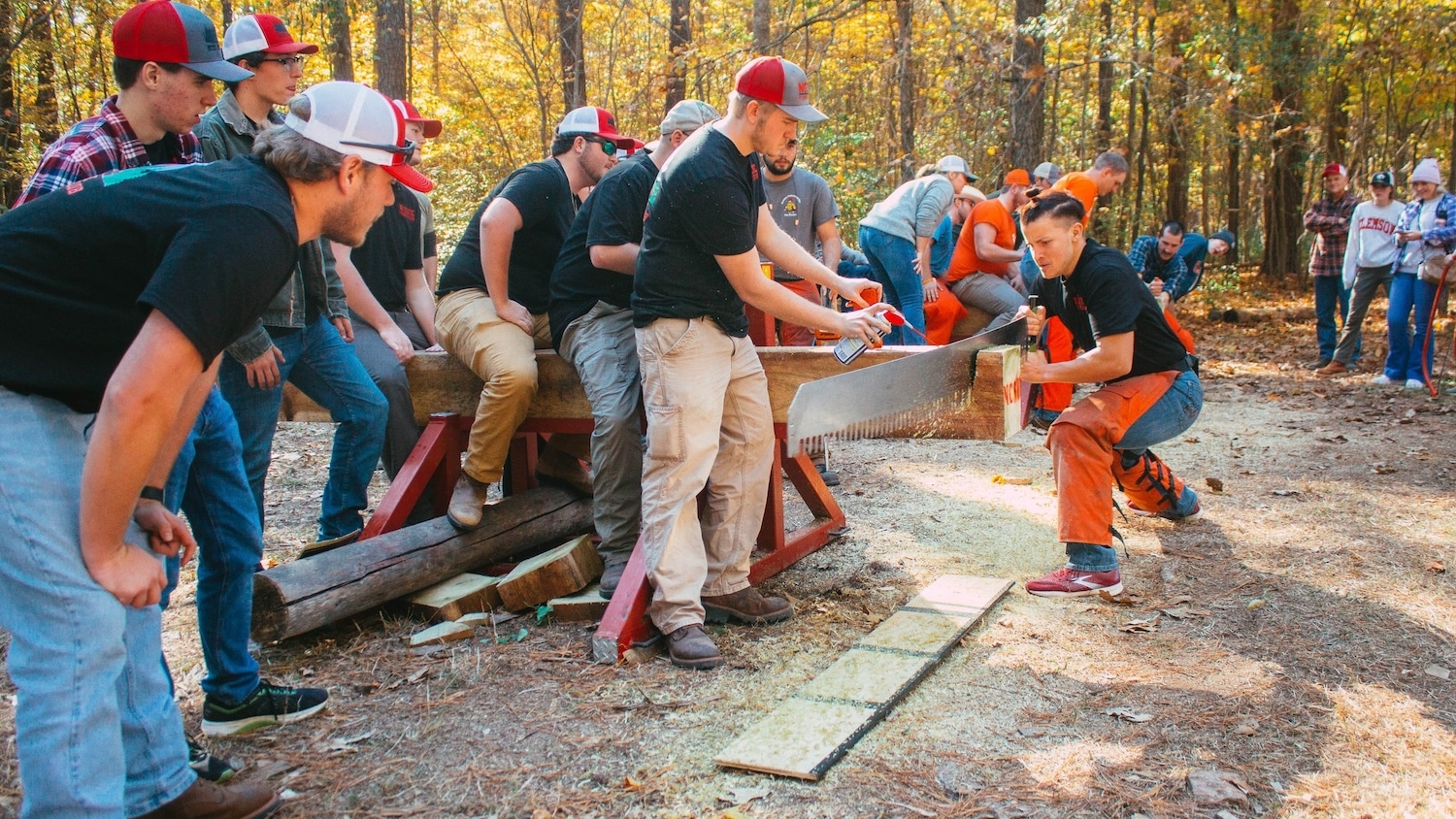 Sitting on 286 acres of land, Schenck Forest is a unique site that benefits NC State students, faculty and staff as well as the broader Raleigh community. The forest provides outdoor laboratories for students and faculty, publicly accessible trails, an arboretum and 50 acres of dedicated hardwood preservation. It's located about 10 minutes from NC State's campus between Wade Avenue and Reedy Creek Road.
Schenck Forest is one of 10 forest properties managed by the university. The College of Natural Resources and its Forest Assets Management team predominantly use the forest as a teaching and research space to demonstrate the benefits of an actively managed, multi use forest.
The Forest Assets Management team's mission is to promote and model sustainable forest management and stewardship practices based on sound and current science, while providing a comprehensive eco-friendly outdoor learning platform for NC State students and faculty. The team achieved certification under the American Tree Farm System and recognition by the Sustainable Forestry Initiative, two organizations internationally recognized in the forestry industry.
Robust Learning
Schenck Forest plays a vital role as an outdoor laboratory for several academic programs within the College of Natural Resources, including forestry, botany, mycology, ecology, soils, recreation and wildlife biology. NC State's ROTC programs also frequently conduct classes and training activities in the forest.In addition to providing coursework opportunities, the Forest Assets team facilitates research, training, outreach and recreational activities to support the university and the college's educational mission.
The team works to ensure research can continue in the forest without causing environmental harm. A few ongoing studies in the forest focus on species allocation of water uptake, former seed orchards and pine species planting demonstrations.
The Forest Assets team typically consists of four full-time staff members and seven student work crew members. The student work crew are all part of the College of Natural Resources and are seeking hands-on experience working in and managing forest properties.
"The point of this work-study is more work than study," says Matty Richards, a junior on the student work crew. "You have to be comfortable being uncomfortable. Forest management is as close to a trade as you can get in a college major." Working in the forest allows students to develop long-lasting industry connections while getting their hands dirty in the field.
Schenck Forest in Action
Thriving Recreation
The surrounding Raleigh community can also enjoy all the forest has to offer during daylight hours, when the property is open to the public. NC State Wellness and Recreation manages a high ropes and low challenge course on the property, with reservations open to university, community or corporate groups. To help keep the community and the land safe, NC State University Police patrols the property with its equine unit.
There are a variety of ways to use the forest recreationally. Visitors can enjoy a picnic shelter that was built in 1976, or they can stroll in the Braham Arboretum. There are also a variety of walking trails where you can view the longleaf pine — North Carolina's state tree and a highly endangered tree species.
During your time in the Schenck Forest, keep an eye out for QR codes tagged on the trees that will allow you to learn more about each species. No dogs, bikes, horses or hunting are permitted on the property.
Schenck Forest Through The Years
Expand Timeline
1937: The state of North Carolina transferred roughly 300 acres of land from Camp Polk Prison Farm to the School of Forestry, now known as NC State's College of Natural Resources.
1955: The NC State Board of Trustees renamed the forest in honor of Carl Alwin Schenck, Ph.D. Following his death, Schenck's ashes were scattered in the forest.
1967: Research began to take root in the Schenck Forest, with one of the first projects studying the impact of land treatments on water quality and runoff.
1980: The forest was reduced to 245 acres due to development impacts and through exchanges with the College of Agriculture and Life Sciences.
1990-1995: Schenck Forest was used nearly every day of the week for field instruction in 27 unique courses. Over five years, 620 students participated in instructional hours in the field.
2022: Today the forest offers a variety of spaces for the NC State and Raleigh communities to use and enjoy.