Lana Davenport: Backcountry Ranger Assistant at Shuyak Island State Park, AK
This past summer I embarked on the greatest adventure of my life: two and a half months on the Kodiak Archipelago, in southwest Alaska. Fifty days were spent on a remote island, without phones, roads, stores, or any sort of permanent residence. Living amongst the last remaining stands of virgin sitka spruce, mighty Kodiak bears, and pods of orca whales, I learned many valuable lessons. This was the most exciting experience of my life, and has surely shaped my future.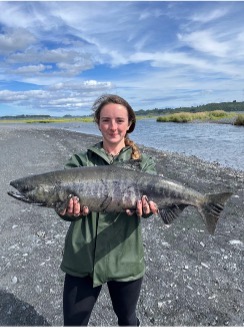 Beginning in the fall of 2021, I was searching for an internship experience that would take me far away from the noise of Raleigh. It was always a dream of mine to do a study abroad experience, but I never had the opportunity and my time at State was drawing to a close. While looking, I decided I would only apply to internships that really peaked my interest and were a good distance away from North Carolina. This is when I discovered the Alaska Department of Natural Resources volunteer page. Shuyak Island State Park really stood out to me because of how remote the position would be and the fact that it is home to the world's largest bears, (Kodiak brown bears). By November I received notice that I had gotten the opportunity, along with 2 others, and we would all begin the experience in May 2022.
When I arrived to the tiny Kodiak airport in late May, I was picked up by my fellow interns, Amelia and Kelsey, and taken to our temporary residence in the middle of Fort Abercrombie State Historical Park. A little bunk house built in probably the 70s with a stove, no running water, and a pit toilet down a short trail. For the first week we completed bear awareness training, led by a Kodiak bear biologist, and we got some training on the usage of the radios we would be using to communicate daily with the ranger station back at Abercrombie. This was a great introduction to what a natural resource technician or maintenance staff member would do when working with Alaska State Parks, and it also gave me a chance to explore the town of Kodiak.
On June 8th, a DeHavilland Beaver with floats instead of wheels (the classic Alaskan bush plane one might imagine) loaded with 2 months worth of supplies and 5 people left the Trident Basin in Kodiak for the Big Bay Ranger Station on Shuyak Island. We flew low over the mountains of Afognak Island, and as we traced the coast of Shuyak we saw pods of whales. The pilot touched down right in front of the ranger station's pebbly beach and we began to unload crates of dried food, radio equipment, chainsaws, and personal gear. I really had no good idea of what everything would look like at the station, so I was in awe at just how big it was and how many small outbuildings were in the camp.
After settling in, we worked four 10-hour days a week from Monday to Thursday. At 0800 we went over the plan for the day, and at 0810 we hailed Chief Ranger Shryock over the radio and relayed the plan of action. At first, we did a lot of "opening shop" type jobs, like cleaning/organizing the supplies and making our two boats seaworthy. As time went on, trail clearing and marking became the priority. Shuyak Island State Park consists of around 15 miles of trail, and has 4 public use cabins. This also includes several portages from one body of water to another, as the park is primarily a sea kayaking destination during the summer. In the winter months, hunters visit for the Sitka deer, which are non-native and very abundant. Properly marked trails and fully stocked cabins are vital, and could be a lifesaver for visitors stranded due to inclement weather.
Most jobs were done via boat, though sometimes we hiked or kayaked. Everything here revolves around the sea. Tides determine which tasks can be completed, and when. There were a few unfortunate times when we did not check the tide book, and when we returned to the beach our 20' boat was sitting high and dry on the rocks. Rough seas also changed the nature of the job, and storms stopped any sort of work a few days in July.
Daily life was so different from anything I had ever experienced. There is no work-life separation when you live 5 feet away from your only coworker (one intern left in June), and you share every waking minute with them. Every meal is shared, and your boss is always there. Bathing and laundry is done by heating water on a wood stove in a Russian sauna. Food is something to be preserved, and clean water is always a concern. Communication was through a Garmin device, or letters if a plane happens to be coming by. Entertainment was beachcombing or reading on the beach.
During my time here, I learned not only how to operate and work on boats, but use many hand tools. I gained knowledge on the sea, the behavior of bears, and how to live in close quarters with others for days on end. By the end of the 52 days, I had not only built functional structures with my own hands, but I had come within 30 yards of Kodiak bears on multiple occasions, witnessed orca whales on the move, and kayaked through 12ft swells in the Shelikof Strait. I am proud of the projects we accomplished, like rebuilding a 45' bridge out of salvaged wood or cleaning an abandoned historic cabin. I overcame many fears, and got over the comforts of modern life I was so accustomed to.
This was the best experience I could have asked for, and it has spurred my interest in Alaska and its wildlife much further. It is my hope that others chose to experience Shuyak Island, and enjoy one of the last truly wild places on earth