Congrats to our Solar District Cup Participants!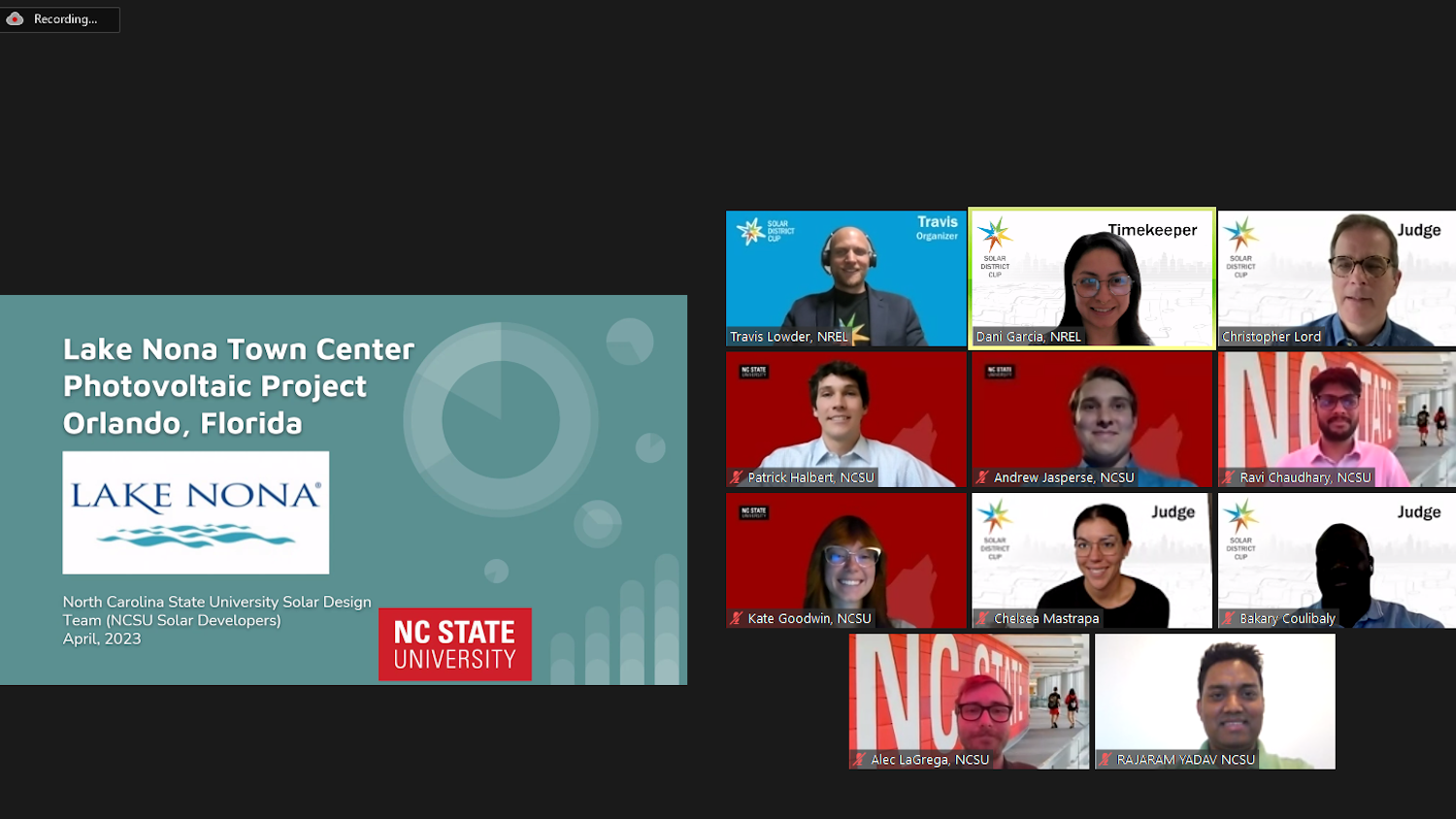 Here's a special shout out to our students who participated in the U.S. Department of Energy's Solar District Cup Challenge Sunday, April 30. This national challenge started off with 57 teams in the first round, which was then whittled down to 27 during the final presentation. 
Our NCSU team competed in the Lake Nona Town Center Division, April 30, against 7 other teams, battling it with the likes of Georgia Tech, Penn State, and George Washington University. Our NC State team won 3rd place! (University of Illinois at Urbana-Champaign came in 1st and Texas A&M was 2nd). Personally, I think they did the best presentation. They were polished, presented like true solar developers, and proudly displayed NCSU in their Zoom background.
Please join me in congratulating our team!
Patrick Halbert, EA Master's
Alec LaGrega, EA Master's
Andrew Jasperse, ES, REA Minor
Kate Goodwin, PolSci, REA Minor
Ravi Chaudhary, Electrical Engineering, Master's
Raj Yadav, Electrical Engineering, Master's
I do want to mention those who joined the team last semester: Sean Ferris (Engineering) and Jason Kuhn (Renewable Energy Grad Cert.). They helped get the team to the finals. Thanks to the folks at NC State's Sustainability and Energy Management Offices (Carla and Lib) who helped the team sort through some weird energy data, and our consultants in the floating solar and battery industry who helped our team along the way. And of course, thank you to Team Captain Ken Dulaney, Director of Industry and Innovation at the FREEDM Systems Center. We wouldn't have an NCSU team without him and his attention to technical detail.
Congratulations NCSU Solar Developers Team!
 If you're interested in learning more about the Solar District Cup Challenge or joining the NCSU team, email lyra_dumdum@ncsu.edu.
By: Lyra Pérez Dumdum