Doris Duke Conservation Scholars Program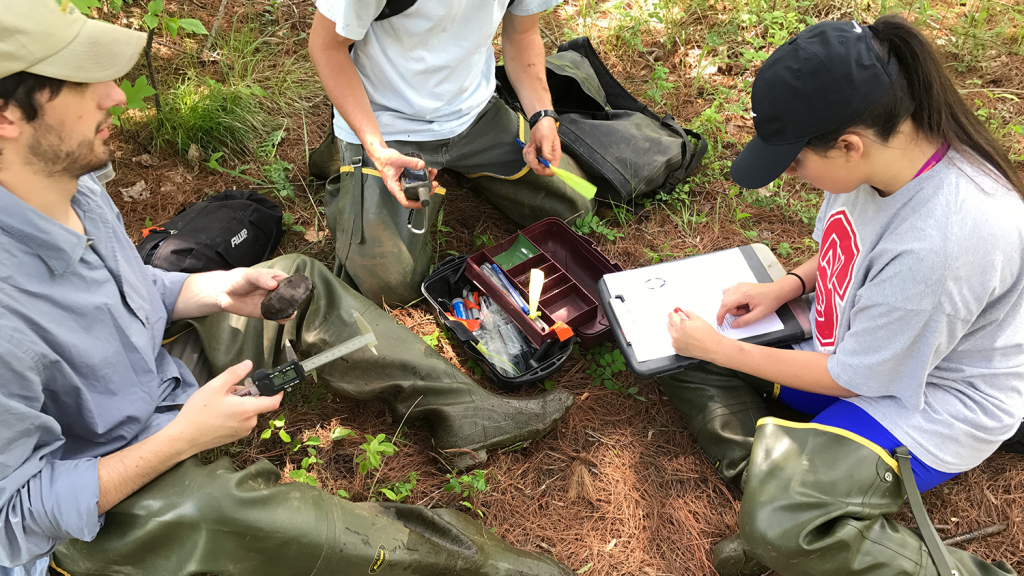 The DDCSP Collaborative provides an exciting opportunity for undergraduates at NCSU who have a passion for biodiversity conservation and for increasing diversity in the field of conservation. This scholars program is a two-year experiential training program that empowers the next generation of conservation leaders to make a difference.
Conservation Scholars receive $550/week over 2 summers to work alongside researchers and seasoned conservation practitioners. As part of the Program, scholars have the unique opportunity to learn a variety of field techniques, develop research and presentation skills, attend workshops and conferences, and build a network of professional contacts and friendships that will last a lifetime. Additionally, scholars will participate in diversity, equity and inclusion training to build the knowledge and skills critical for increasing the diversity of students and professionals in the conservation field.
Apply
This is an exciting and exclusive opportunity available only to NCSU students. Students who are enrolled or planning to enroll full-time in a major related to environmental conservation here at NCSU will receive preference in the selection process. Candidates must have a deep commitment to diversity and inclusion, and under-represented minority and first-generation college students are especially encouraged to apply.
Deadlines
The early deadline is December 1, 2021 and is highly encouraged.
All applications are due by February 15, 2022.
Information Session
Application Information
Interested students should read about the application process and apply online using this link.
Learn More
For more information about the Doris Duke Conservation Scholars Program Collaborative, please contact Dr. Zakiya Leggett. To learn more about The Doris Duke Conservation Scholars Program Collaborative, visit the Program's website. To learn more about the Doris Duke Conservation Scholars Program as a whole, visit the Doris Duke Charitable Foundation's website.
About the Doris Duke Charitable Foundation
The mission of the Doris Duke Charitable Foundation is to improve the quality of people's lives through grants supporting the performing arts, environmental conservation, medical research and child well-being, and through preservation of the cultural and environmental legacy of Doris Duke's properties. The foundation's Environment Program seeks to ensure a thriving, resilient environment for wildlife and people and foster an inclusive, effective conservation movement. For more information, visit ddcf.org
Our Program website and media:
2021-2022 Scholars

Samai Bhojwani
Samai Bhojwani is studying Fisheries, Wildlife and Conservation Biology with a minor in Animal Science and Arts and Design. She is originally from Belize City, Belize but her family moved to Florence, SC. Her passion for wildlife conservation grew due to being surrounded by incredible biodiversity when growing up in Belize. The environment and wildlife being just as diverse as the people sparked her interest in social and environmental justice issues. In college she has conducted research with the Duke Lemur Center; coding for mother infant behavior, as well as interning in a veterinarian hospital learning about the medical practices and reproduction of animals. Samai pursued The Doris Duke program because she believes this program will allow her to focus on conservation and the preservation of wildlife and endangered species while continuing to work towards a more diverse and inclusive field of conservation.

Amaya Horner
Amaya Horner currently attends North Carolina State University. Her major is Parks, Recreation, and Tourism Management, and she is also pursuing a minor in Environmental Science. Ever since she was a young girl scout she always loved exploring outdoors and learning about natural history, however, it was in middle school that she became more interested in learning about environmentalism and environmental science. Joining the Model United Nations club at her school opened her eyes to a plethora of environmental issues such as deforestation, sustainable natural resource use, and global warming. Amaya decided to attend NC State because of its wonderful College of Natural Resources. It was here that she discovered that she wanted to pursue a career that would allow her to help increase the preservation of natural resources and push for more minority representation in environmental sciences. One day she hopes to have a career working with land trusts to create more protected lands, habitats, and national parks. She also hopes to create outreach programs that increase opportunities for minority communities to pursue environmental science careers, engage in outdoor recreation and further encourage them to have a connection to the environment. One of Amaya's biggest goals in life is to explore as much of the natural world as she can through traveling. Amaya is super excited and grateful to be a part of the DDCSP to gain valuable experience and to meet her fellow scholars!

Hailey Schmidt
Hailey Schmidt is a sophomore double majoring in Computer Engineering and Fisheries, Wildlife, and Conservation Biology with a Fisheries concentration. She grew up in San Diego, California, where she learned to love nature from an early age. Although she grew up in an urban area, her father tried his best to expose her and her brother to nature through road trips to the nearby mountains and desert. However, the ocean was where she truly fell in love with the environment. She looks back fondly on class field trips to the local aquarium and windy afternoons exploring the tidepools, and gradually developed an interest in fish specifically. As she got older, she became more interested in technology, spending long hours working on a robotics team. She struggled to think of a way to reconcile both passions until by chance her robotics team volunteered with the San Diego River Conservancy. They were proposing a continuous network of protected habitat and hiking trails along the river from the ocean to the mountains, and she was tasked with using GPS devices to manually map out the existing trail network. This experience opened her eyes to the intersection of technology and conservation, which is what encouraged her to pursue her double major. Going forward, she hopes to advance the field of fisheries science by researching and improving technologies for fisheries researchers, such as acoustic telemetry and underwater autonomous vehicles.

Issac Smith
Issac Smith (he/him/his) is a second year student at North Carolina State University. He's majoring in Natural Resources with a minor in Africana Studies. Issac has been captivated by the beauty of nature ever since he was a child. As he grew up, he began learning about how the planet is being ruined by the actions of mankind. Issac always wanted to do his best to protect the environment simply because of all the wonderful things found in nature. Eventually, he really learned about how humanity is entirely dependent on nature for everything from the breathable air to the clothes to wear to the economy. Later, Issac became an avid conservationist working with environmental organizations to conserve nature. Still, he wants to do a lot more work in the community to push for integrated conservation practices in every aspect of life. His goal is to learn more about how to realize that idea and to work in a field that allows him to pursue that dream.
2020-2021 Scholars

Jaren Baluyot
Jaren Baluyot is studying fisheries, wildlife, and conservation biology with a concentration in conservation biology. He was raised in Annapolis, Maryland, where most of his childhood was spent outdoors near the Chesapeake Bay. After taking a zoology class in high school, he realized his passion for wildlife. Jaren chose to attend NC State in order to move out of his comfort zone and grow as an individual. Through clubs and opportunities on campus, he found interest in volunteering and working with others. During a study abroad in the United Kingdom, he hiked Snowdonia National Park which strengthened his love for the environment. He was drawn towards the Doris Duke Conservation Scholars program because of its dedication to diversity, inclusion, and hands-on learning. Jaren believes that protecting the environment can serve as a common goal for bringing diverse people together. He enjoys challenging himself and aspires to become a phenomenal leader who will make a positive difference in the world.

Reese Dorroh
Reese Dorroh is a sophomore majoring in Fisheries, Wildlife and Conservation Biology with a concentration in Conservation Biology. She is from Virginia Beach and living on the coast helped instill in her a passion for wildlife, the environment and the preservation of both. Growing up she volunteered at the Virginia Aquarium where her favorite exhibit to work was the stingray tank because she got to interact directly with the animals. During a summer abroad in Italy her junior year of high school, Reese got to volunteer with Lampedusa Turtle Rescue and realized that working to conserve wildlife was what she wanted to spend the rest of her life doing. She chose the Doris Duke Conservation Scholars Program because of its emphasis on diversity, inclusion and hands-on learning. Reese is passionate about the conservation and rehabilitation of endangered species and hopes to one day find a career that allows her to focus on both.

Nina Esquerdo
Nina Esquerdo is majoring in Fisheries, Wildlife, and Conservation Biology with a concentration on wildlife. Living in North Carolina all her life brought her close to nature and the environment. It wasn't until she began volunteering at a local aquarium that her passion for wildlife and conservation began to flourish. Soon after, Nina also began to volunteer at a wildlife rehabilitation center. Here she realized the strong impacts humans have on animals, whether it be bad or good. Coming to this realization, she decided she wanted to make a difference in wildlife conservation. Nina hopes to one day contribute to scientific research as a wildlife biologist to create a positive impact on the environment. Not only that, but Nina also hopes to encourage diversity in the science community. Being a young Hispanic woman, Nina hopes to encourage more people from different backgrounds, races, and ethnicities to be more comfortable and confident in entering environmental and conservation related fields.

EmmaLee Hovander
EmmaLee Hovander is majoring in zoology with a veterinary medicine intent. Growing up, she admired and discovered that she wanted to emulate her aunt, a practice-owning veterinarian. EmmaLee is from Greensboro, North Carolina, where she has volunteered with the SPCA of the Triad and has worked at an animal hospital. During the school months in Raleigh, she works for an ecology lab at NCSU. While she pursues veterinary education, EmmaLee is interested in learning as much about the world around her as possible. She wants to make an impact on the world as she learns more about it. EmmaLee also loves interdisciplinary fields and has a strong interest in the arts and literature— which she hopes to incorporate in her future career.
2019-2020 Scholars

Shannon Dolan
Shannon Dolan is studying environmental science with a minor in marine science. She spent the last two summers working at the Connecticut Department of Energy and Environmental Protection as a member of the Diadromous Fish Division. Through this experience, she discovered that she is passionate about environmental conservation research because it combines science with the opportunity to make a difference within her community. At NC State, she is a member of the Environmental Student Association and a volunteer at the NC Museum of Natural Sciences. She was attracted to the Doris Duke program because of its focus on increasing diversity and inclusion in STEM fields. As a Doris Duke scholar, she is excited to collaborate with her peers, build her network of environmental professionals, and learn methods for conducting and presenting environmental research. She plans to pursue a master's degree in a marine or fisheries related field.

Aaron Durham
Aaron Durham is a junior majoring in environmental science with a concentration in water quality. Even though he has spent the majority of his life in North Carolina, Aaron was born in Nevada and has fond memories of life out West. His goal is to be able to get back to his roots and gain experience working with conservationists along the west coast. His time studying at NC State has shown him the importance of conservation and why it is increasingly necessary in today's world. Hoping to increase his knowledge and interact with people and environments unfamiliar to him, Aaron joined the Doris Duke Conservation Scholars Program and has found exactly what he was looking for. After graduation, he plans to get a job using his major and work to reverse the degradation of the world's water.

Holly Keepers
Holly Keepers is a junior majoring in Conservation Biology with an Applied Ecology minor. She is originally from Roswell, Georgia, and chose to attend NC State due to the Zoology program, but later changed her major to Conservation Biology. Holly enjoys studying the wildlife aspect of conservation biology the most and hopes to one day work for the U.S Fish and Wildlife Service.

Jared Lamb
Jared Lamb is a junior studying fisheries, wildlife and conservation biology with a concentration in wildlife. Born in a small rural town in North Carolina, he developed a close relationship to nature. Ever since Jared was little, he knew he wanted to work with wildlife, and with NC State being the only university in North Carolina with a wildlife program, he knew exactly where he wanted to go as well. At NC State, he is involved in the Leopold Wildlife Club and is on the bass fishing team. He, one day, hopes to work for a state wildlife service or the U.S Fish and Wildlife Service.

Mya Wilson
Mya Wilson grew up in a rural community in Granville County, North Carolina, which is where her appreciation for the environment began. As a child, she loved spending countless hours outside catching insects and other invertebrates. Her most prized possession was a bug catcher her mother bought her from a book fair. Although science was always a passion of hers, she was inspiration by her father, who has close to 20 years of experience in the environmental field, and decided to major in environmental sciences. Her father loves his career and frequently shares his passion with others. Just like him, she wants to be passionate about her work so that she can inspire others to find something they love and make a change in the world.