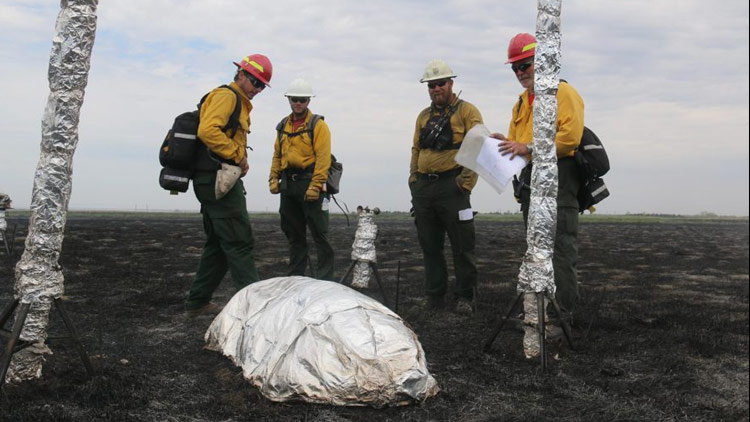 Wildland Fire Science: Fire Ecology,Behavior, Controlled Burn and Firefighting
The U.S. has experienced historic levels of extreme fire behavior recently with more acres burned, more homes and resources destroyed, more human mortality and more money spent in fire suppression. The following series of online courses in Wildland Fire Science will teach the benefits, risks and methods to manage fire in natural landscapes.
Fire experience enabled me to go straight from graduation to working with The Nature Conservancy, restoring ecosystems.
These courses can be taken by any current graduate student or individually, by anyone with an undergraduate degree. If you are not a current student and want to take courses, apply to the non-degree studies program.
If you have questions about these courses, please email Dr. Joseph Roise at Joe_Roise@ncsu.edu.
FOR 531: Introduction to Wildland Fire Science
This course explores the physical, chemical, biological and ecological processes associated with wildland fire, with particular emphasis on fire behavior, fuels, weather, climate and the associated effects on ecology, management, fire suppression, prescribed fire, and smoke emissions and exposure. We also take a closer look at fire's effect on national policy, social and natural history of North America, with in-depth exercises in fire and smoke modeling using established predictive systems.
FOR 595 – 601: Fire Ecology
This course emphasizes the relationship between wildland fire and southeastern US ecosystems. Plants and animals of the region evolved with fire and many rare and endangered species are fire dependent. However, modern day fire prescriptions must integrate our evolving knowledge of historical fire regimes with the challenges of applying fire in a landscape increasingly modified by the expanding human population. The course uses creative approaches to bring field-based concepts related to fire ecology and prescribed fire application into the online environment. Course topics include fire behavior, history of lightning and anthropogenic fire, fire adaptations of plants and wildlife, landscape fire ecology, restoration of fire-dependent communities, and planning and conducting a prescribed burn.
FOR 532: Firefighter Type 2 (FFT2)Certification
This entry-level firefighter course leads to a Firefighter Type 2 (FFT2) National Wildfire Coordination Group (NWCG) Certification. The NWCG provides national leadership to develop, maintain and communicate interagency standards, guidelines, qualifications and training that enable interoperable operations among federal and non-federal entities. The course includes basic fire behavior, incident management and organization, firefighting techniques, suppression equipment, safety, strategy, tactics and an awareness of human performance issues that impact fireline job performance. The class includes one day of onsite exercises in Hill Forest, north of Durham, N.C.
Successful completion of the FFT2 certification and pack test will allow students to participate as wildfire crew members on engine and ignition crews in future prescribed fires and provide valuable experience for state, federal and NGO employment.
FOR 595-003: Firefighter Type 1 (FFT1) Training
This intermediate firefighter training program (equivalent to National Wildland Fire Coordination Group (NWCG) S-131, S-133 and S-231 courses) is designed to prepare the Firefighter 2 (FFT2) to move to the Firefighter 1 (FFT1) position. This course trains firefighters to coordinate with other resources, be good leaders and make sound tactical decisions while keeping safety their first priority. There are three parts:
Part 1 – Firefighter I training: This course contains several tactical decision games designed to facilitate learning the objectives and class discussion. Topics include: fireline reference materials, communications and tactical decision-making. Objectives include demonstrating the ability to use fireline reference tools to facilitate the communication and decision making processes; describing how to incorporate and maintain open lines of communication with appropriate personnel; demonstrating the ability to apply the standard operating procedures found in the Incident Response Pocket Guide (PMS 461); and demonstrating the ability to apply information found in the Wildland Fire Incident Management Field Guide (PMS 210).
Part 2 – Look Up, Look Down, Look Around: This course examines the wildland fire environment and the indicators firefighters should observe on the fire line to anticipate fire behavior. Topics include: listing and describing the seven environmental factors and their indicators that firefighters should observe on the fire line related to fire; and describing how to use the indicators when implementing the Risk Management Process.
Part 3 – Engine Boss (Single Resource): This is a skill course designed to produce student proficiency in the performance of the duties associated with engine boss, single resource (ENGB). Topics include: engine and crew capabilities and limitations, information sources, fire size-up considerations, tactics, wildland/urban interface and engine boss tactical decisions required to safely manage an engine on an incident.
This course fulfills the course requirement for the FFT1 Task Book.