Extension: Serving North Carolina and Increasing Consumer Understanding of Wood Products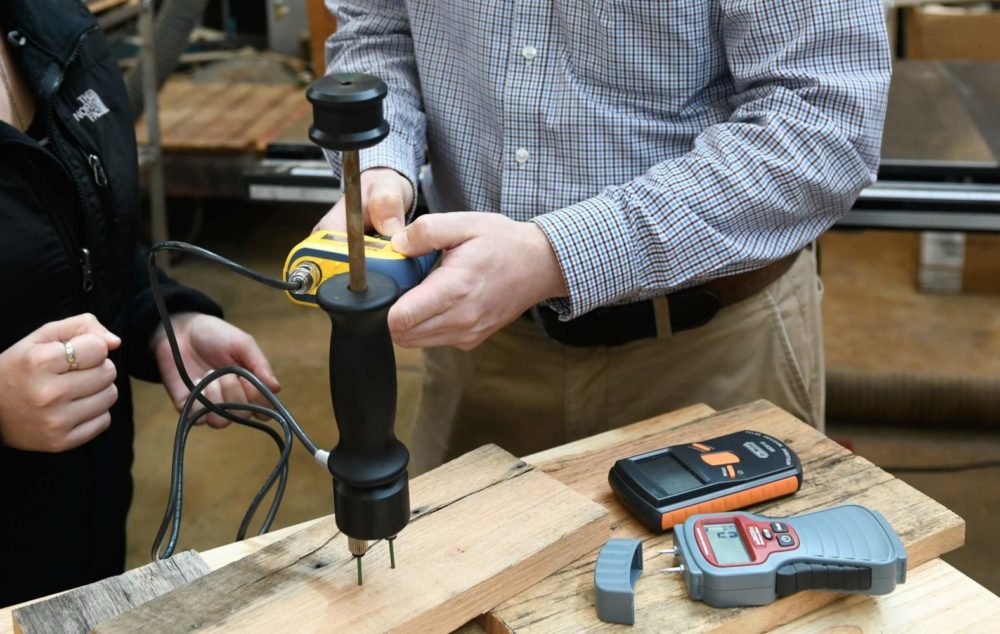 The mission of Wood Products Extension is to increase the competitiveness and profitability of North Carolina's wood products industry, improve markets, increase consumer understanding of wood products and their proper use.
Through research, consultation, educational programs, and special projects, Extension provides critical manufacturing support and related services to private and public sectors across North Carolina.
100 Moisture Meters in 100 Counties is a project initiated to address issues related to moisture in wood products. Excess moisture is known to cause durability and health issues in buildings. Wood with a moisture content of 19% or greater is susceptible to mold and decay fungi and more likely to develop insect problems. Moisture measurements are the only way to estimate the amount of water in buildings products. Access to best practices of moisture measurements can lead the way to a better and faster mitigation of damages.
To educate people about the use of moisture meters Wood Products Extension has developed a fact sheet titled "Assessing the Moisture Content of Wood Building Materials". It contains an introduction to moisture measurements and instructions on the use of the General Pin-Type moisture meter. Their recommendation for this meter is based on the performance evaluation of nine low cost off-the-shelf moisture meters. Evaluation was based on accuracy and ease-or-use (and of course low cost).
Wood Products Extension is providing extension offices across North Carolina with instructions and a meter. Agents can then familiarize themselves and assist interested people with their needs.
For more information about this project or to request a meter along with instructions please contact:
Dr. Frederik Laleicke, Assistant Professor and Wood Products Extension Specialist